Paleontology for Kids at the Cranbrook History Centre
August 11, 2020 | Submitted by the Cranbrook History Centre
Fun Discoveries We Made at Our Junior Paleontology Camp
Throughout July, we had many young recruits join the Saturday Junior Paleontology programs at the Cranbrook History Centre. Some went through the program once while others have returned each week for fun new activities, and old favourites! July has reached its end and, in that time, both the learners and leaders have uncovered new items and ideas of "sedimental value."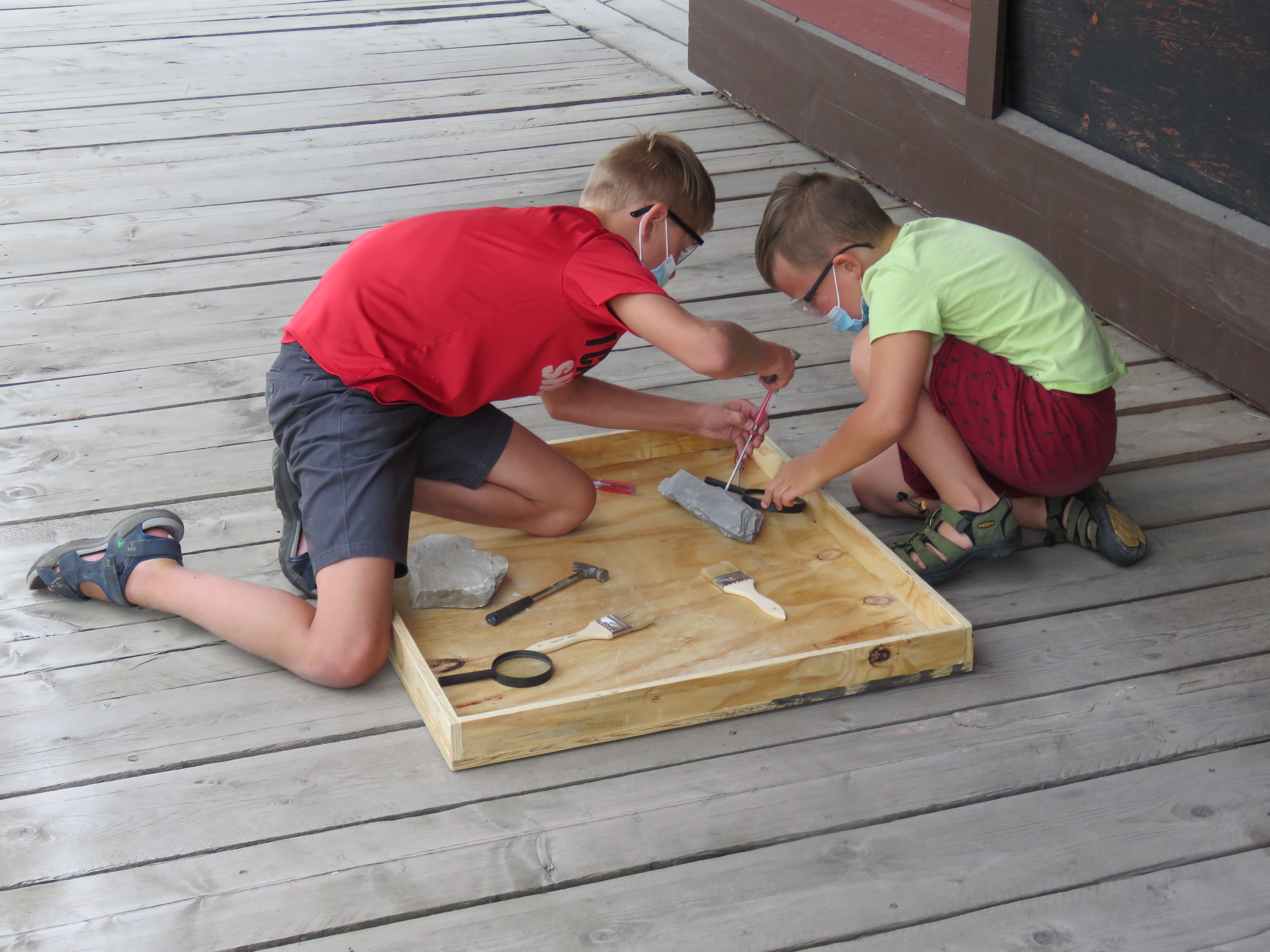 Fossils come in all shapes and sizes!
Together, we used our imaginations to picture the different sizes and shapes of a fossil that we each brought to life with our own creativity and self-expression. Some of us found trilobites the size of a nickel and needed microscopes just to see the creature hidden in the rock while others found giant T-Rexes that needed our superhero strength just to hold up! Then, after becoming the critters inside our fossils and imagining what walking and behaving like them might have looked like, we learned that they have one thing in common: they are all fossils in their own way, shape and form!
Fossils have special characteristics!
Paleontologists know that not every rock they unveil will contain remnants of past life, so being able to recognize the qualities that a fossil does and doesn't have is important in their practice. Our intrepid participants showed some of the crucial steps to uncovering fossils: using a brush to carefully dust-off potential finds and examining the rock thoroughly for evidence of an impression. We also used magnifying glasses to detect the smallest fossils and get a clearer view of critters from the local area.
Not all trilobites are alike!
Let's talk fossil identification. As Certified Junior Paleontologists, we learned to compare our discoveries to other local trilobite types that swam and scuffled along the freshwater habitats over 250 million years ago. Each type has its own unique qualities and some are more commonly found in this region than others. After learning about what fossils are and how to properly use our paleontologist's tools to clear sand away from them, we discovered many types of trilobites in the rocks around us.
Anyone can be a paleontologist!
What does a paleontologist look like? In July, they looked like a dozen curious kids between ages 6 and 12! Whether they are passionate about paleontology or just beginning to explore the world of fossil discovery, this summer program can be a source of enjoyment and unique experience for any kids. After learning about what fossils are, the effects of extinction, the causes of evolution and how to dig for trilobites as the experts would, everyone tries their hand at finding fossils for themselves. Each child left with trilobite treasures to talk about with family and friends. They also brought home a booklet for extending museum activities outside of the museum, including instructions for making their own fossils right at home, and an official Junior Paleontology card!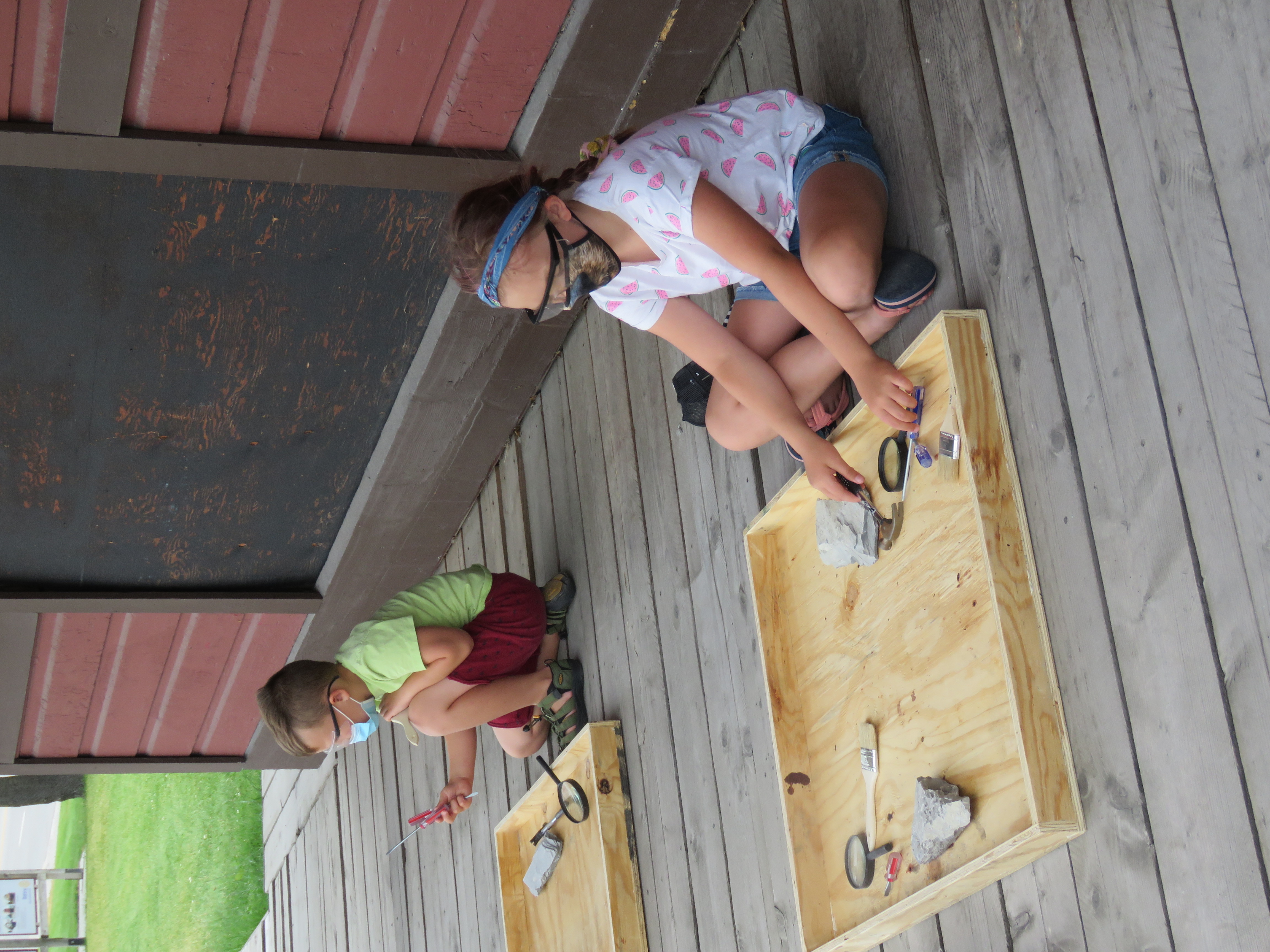 Think you have a future paleontologist in your family?
Registration is still open for the Saturday hour-long camps on August 8, 15, 22 and 29!
Sign your kids up for either the 6-8, or 9-12 aged camps and see what discoveries they will make!
You Might Be Interested In...