A Kootenay Skatepark Road Trip
October 15, 2020 | by Kevin Montgomery
With summer ending and fall upon us, it seems like it's time to put away the skateboards and get bundled up for colder weather. However, I believe with the warm weather we've been having there could be time for one last Kootenay skate trip. It can't be done in a day and you may have to pick and choose the skateparks you plan to visit, so hopefully, this will help.
Start out in Cranbrook at the Viking Skatepark; get there early to beat the crowds, as this is probably the busiest park in the Kootenays. The park was built by Spectrum Skateparks and opened in 2002. It features tons of transition and a nice flat ground area as well. I think the mini at the front of the park is probably a fan favorite. The other nice thing about this park is that it's just down the road from The Choice skate shop, where the knowledgeable and friendly staff will hook you up and get you all set for all of your skateboard, snowboard, clothing, shoe, and safety gear needs, or even just a good old high five. Make sure to check out the local area as well as some of the great restaurants in Cranbrook. The Heid Out has you covered for great food and brewed in-house award-winning craft beers.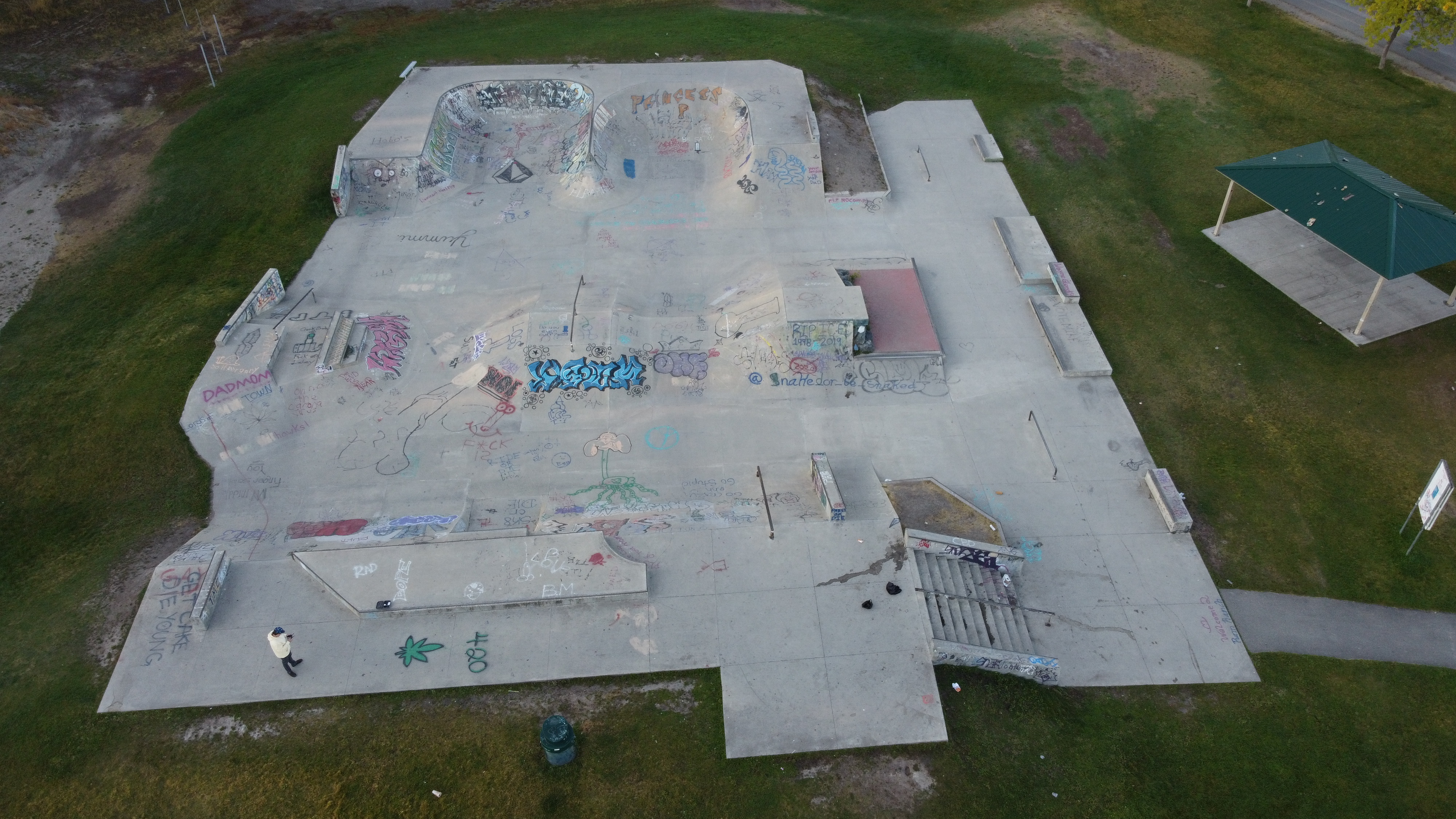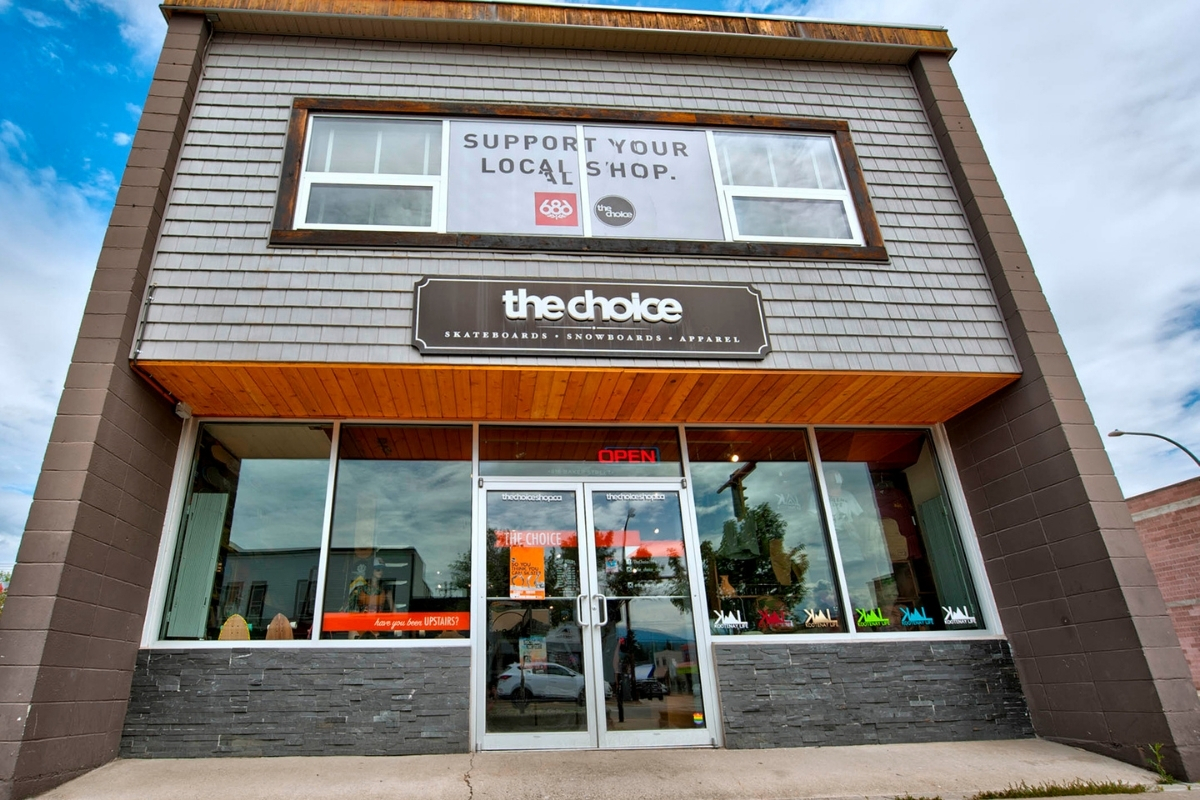 From there you have choices of which direction to go; I'd suggest heading twenty-five minutes to Kimberley, pick up a coffee and some breakfast at Timber Hitch café, say hi to the friendly staff there, and then make your way to the skatepark. Kimberley skatepark was also built by Spectrum Skateparks, and was opened in 2012; it features a large L-shaped bowl, some flat ground with a rail, and a bunch of transition. It is definitely a small but fun park. Kimberley also has some amazing places to grab a bite to eat, from the Sully and The Shed to The Bean Tree and The Bauernhaus, but my go-to has to be The Burrito Grill, always satisfying.
Now if you are doing this as an actual road trip you will want to head towards Creston next. Check out one of their many produce stands to stock up on fruits and veggies, or maybe grab another coffee and some amazing baked goods at Buffalo Trails. Creston Skatepark is the newest on this list opening in 2019 and built by New Line Skateparks. It features a long and flowy street section with a huge quarter at the end of your run; it also has the biggest and nicest looking bowl on this list. I also think it was cool that they made the back wall of the park rideable. Creston also has some great restaurants but if you're of age and looking for an experience check out Frisky Whiskeys; it's like stepping back in time to the 1920s, plus they have the best veggie tacos I have ever experienced.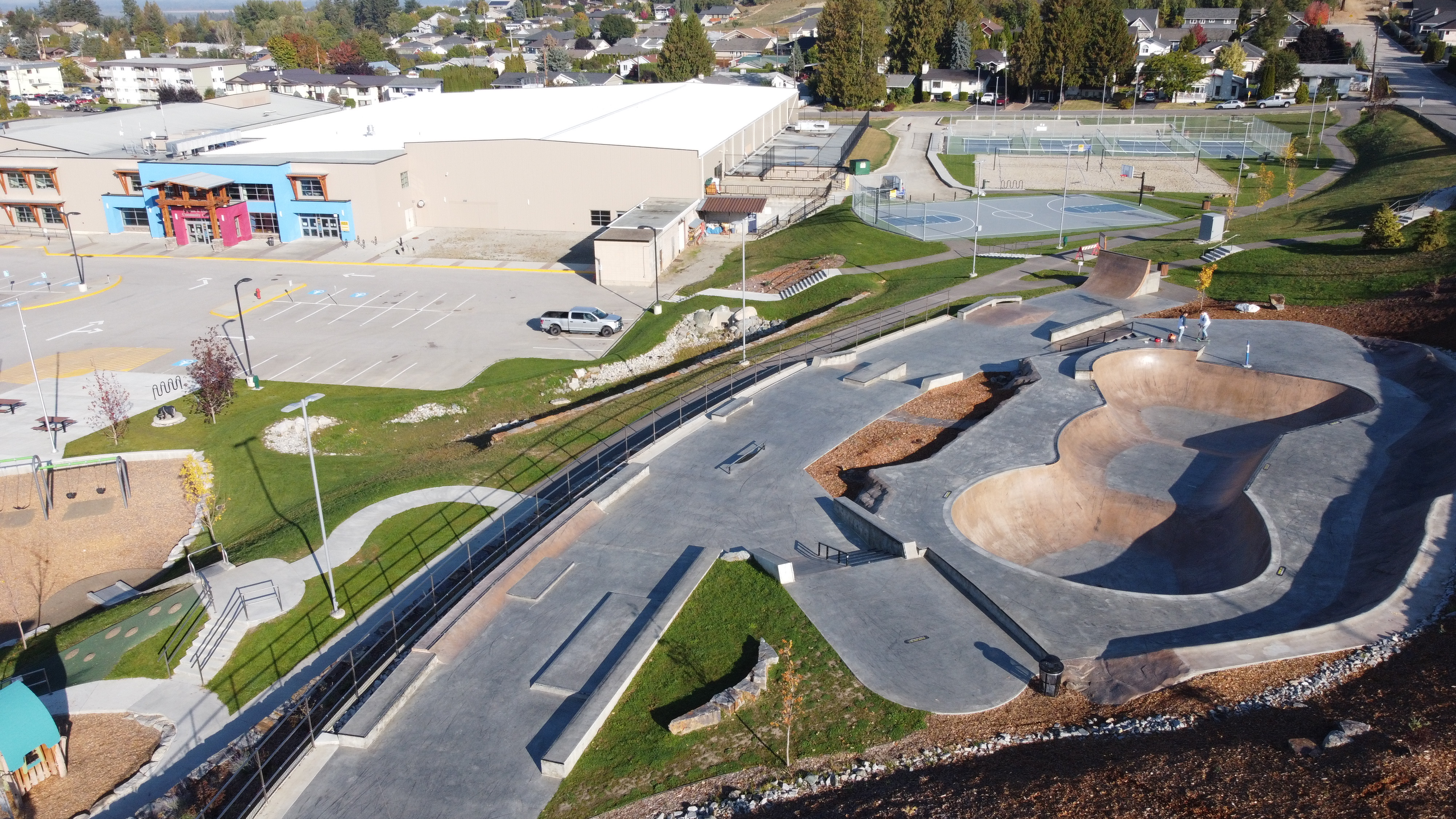 Next up is Trail/ Montrose. I don't know much about the Montrose Skatepark but it looks super fun, and I had to mention it. Trail has hands down the most beautiful park on this list. Built by New Line Skateparks and opened in 2018, it has a nice sized bowl and a really fun manual pad. This park is right on the river with a beautiful view of the bridge. Trail has a competition in May every year that could be fun to check out. I didn't spend much time in Trail outside of the skatepark because it was so much fun.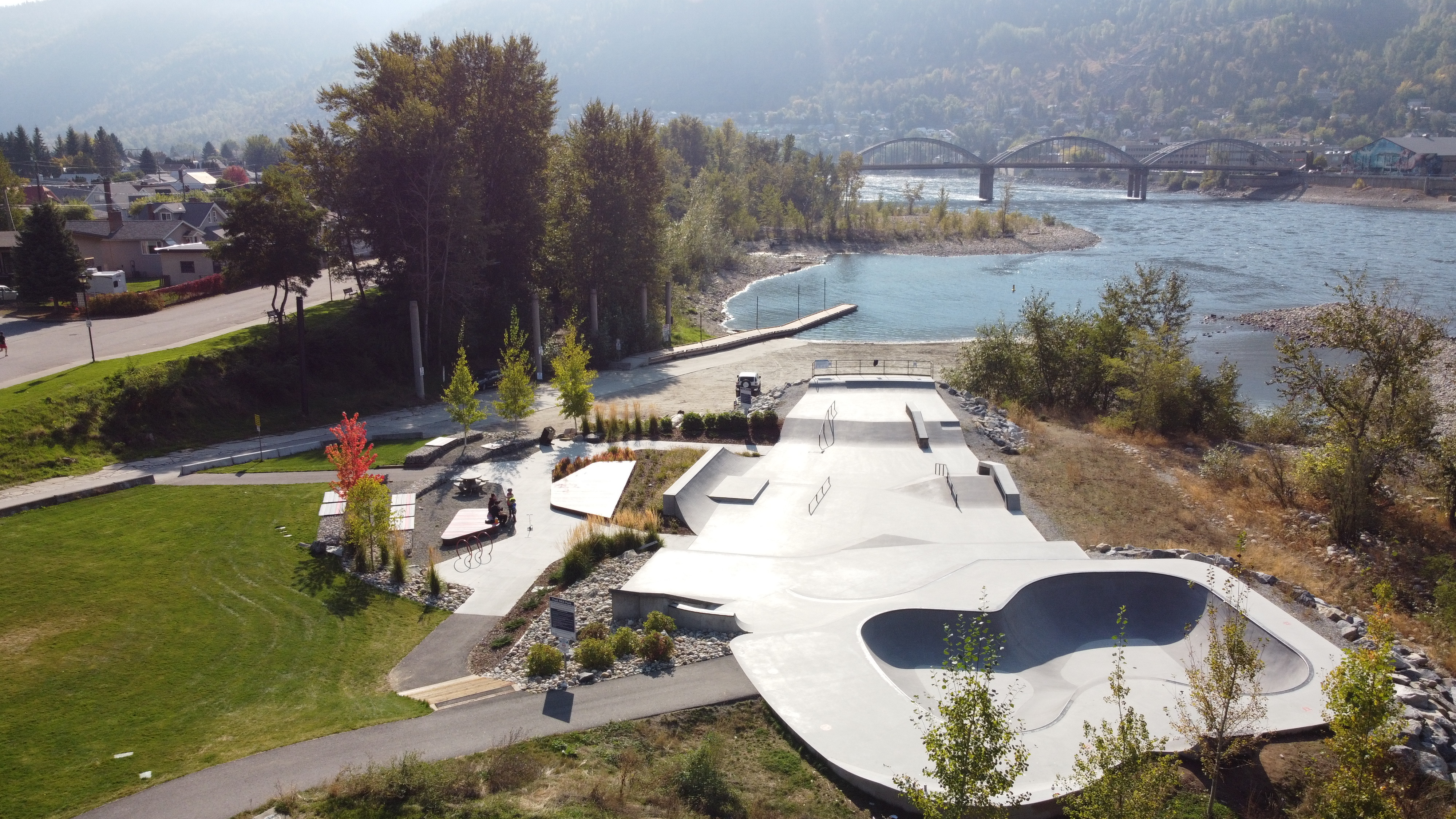 On to our next skatepark which is in Rossland. This skatepark was designed by Andy Dobson and opened in 2018. It features a ton of transition and a little area for flat ground. Rossland has a ton of events in the summer so you'll probably stumble upon one of them, however, in the Fall it can be much quieter. The locals all suggested a visit to the Alpine Grind Coffeehouse for breakfast, and I'm glad I took their advice. Rossland also does a mini ramp jam and a competition in September if you're up for a challenge.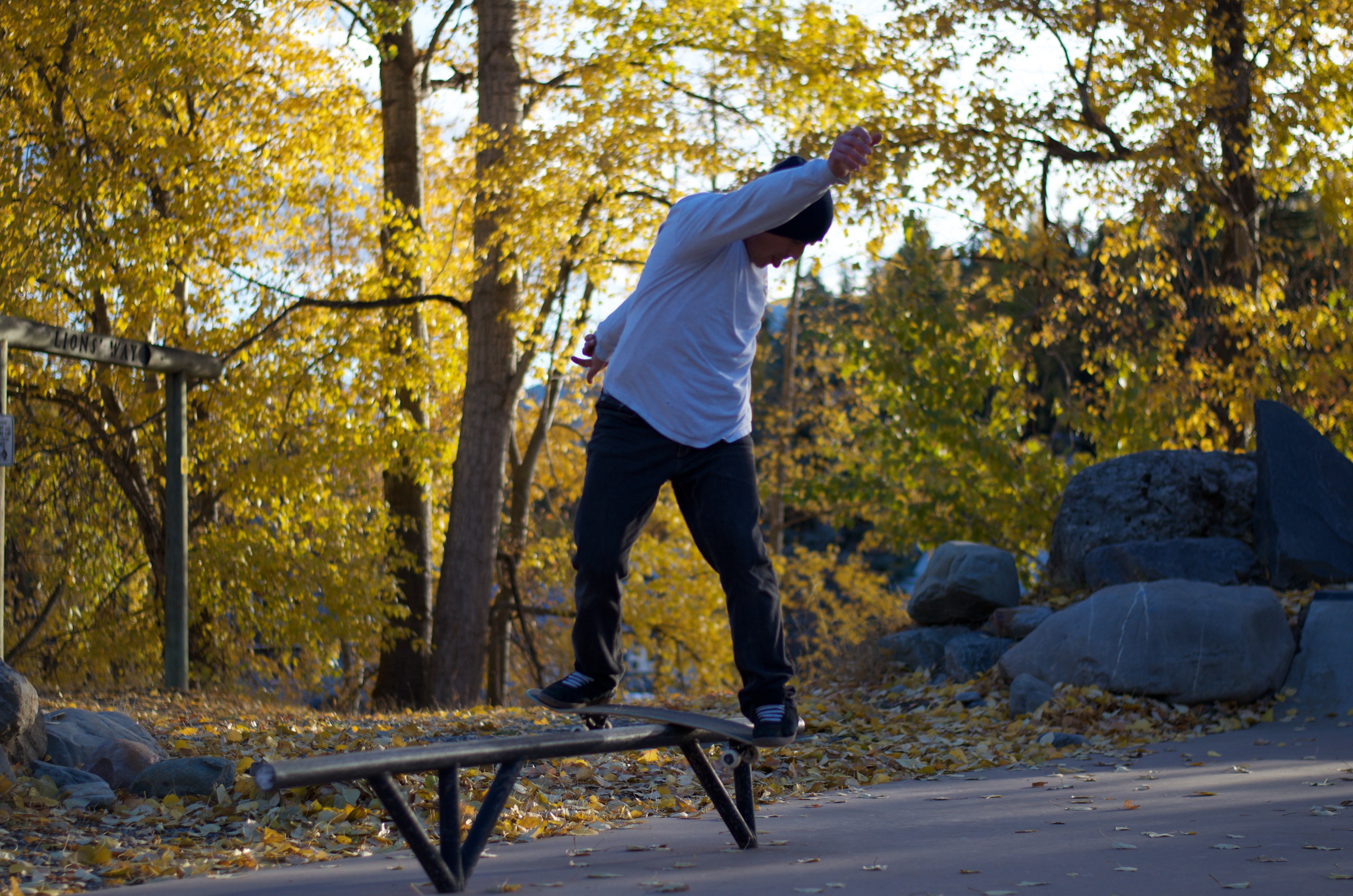 photo credit: Liam Westergaard

Drive a little bit further and you're at the Castlegar Skatepark. Made by Spectrum Skateparks and opened in 2003, Castlegar skatepark features a big L shaped bowl and a bunch of street features. Castlegar hosts a competition in June for anyone willing to test his or her skills. While in Castlegar I like to check out Common Grounds coffee shop, even just for a cinnamon bun, but be quick cause you still have some driving to do.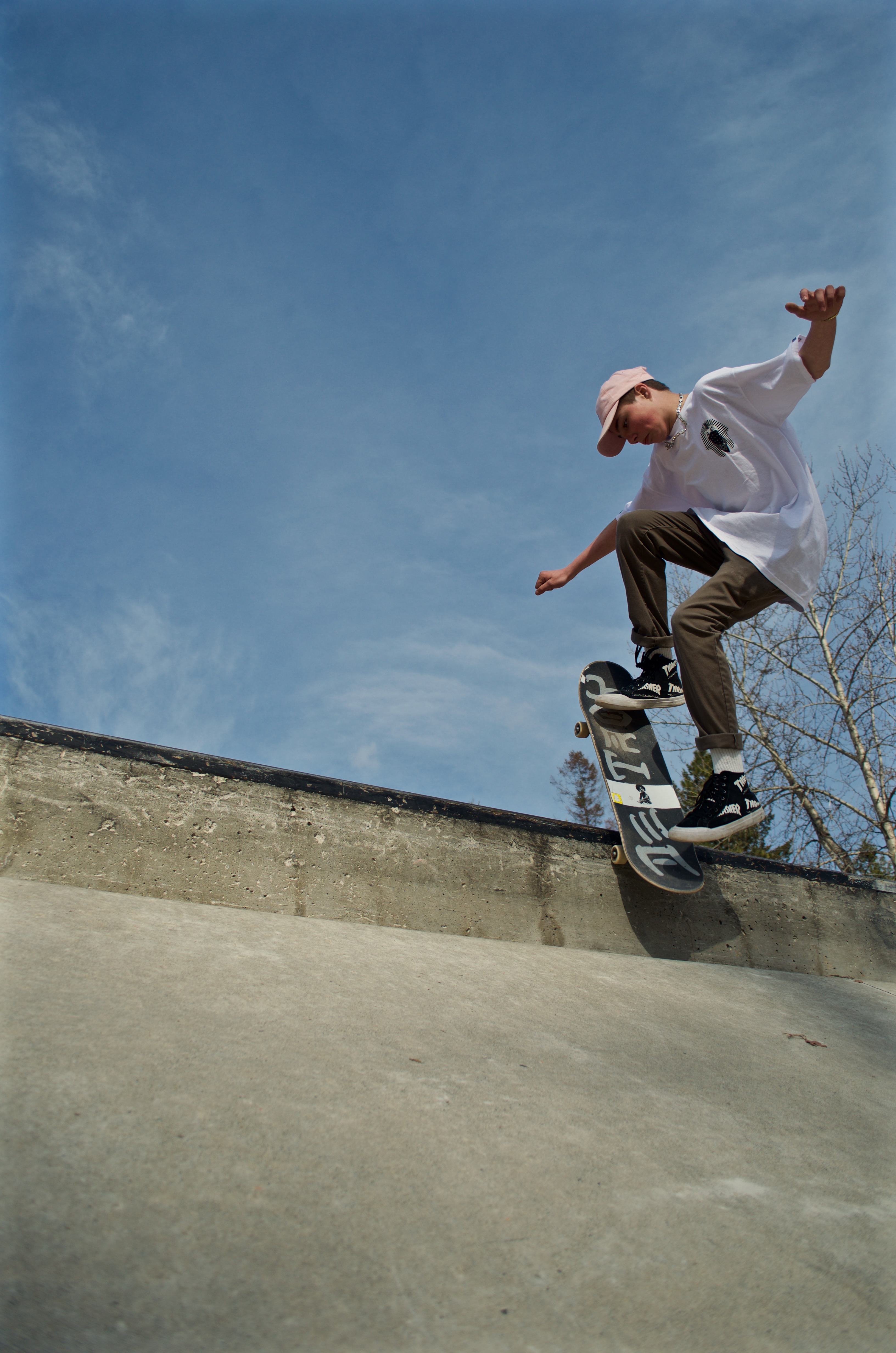 photo credit: Liam Westergaard

Next up Nelson. Nelson boasts the biggest park on this list, built by New Line Skateparks and opened in 2014. This park has a bowl, transition, and street features as well as a snake run. Nelson has games of SKATE in June and a winter skateboard series in December; that's right Nelson has an indoor park! Also Nelson is such a cool town with amazing food and coffee shops. I asked the locals about tacos and it seemed there was a very strong battle between Cantino Del Centro and El Taco for best tacos in town. I went with Cantino Del Centro and was very happy with that choice. Nelson is also a great place to spend a night on a road trip; I stayed at the Dancing Bear Inn Hostel. The staff were very helpful and the room was nice and clean, I recommend them to everyone I hear is heading that way.
Last but not least on this leg of the journey is Kaslo. Built in 2006 by Spectrum Skateparks, and they seem to hold a competition in May every year. This park has a bowl, stairs, transitions, rails, basically anything you could want. Kaslo is a very seasonal town and can be very quiet in the Fall, I'd suggest going for the Jazz Festival they have every year from July 31- August 2. I ate at the Bluebelle Bistro and had not only an amazing breakfast sandwich but also possibly the best piece of bacon of all time; possibly worth the trip alone. Now its time to take that Kootenay Lake Ferry home and talk about a few other parks off the beaten path.
Invermere skatepark is amazing. First off it has bathrooms, which is huge; plus I heard that there is more park still to come!!! Built by New Line Skateparks and opened in 2006 this park is a blast. It has a huge bowl, flat ground for days and a ton of transition, and a seven stair. This park when it is all done could be the best in the Kootenays. Invermere has so much more to offer. Stop at Kicking Horse Coffee for your coffee and pastry needs then take a walk along the beach. You also cannot forget Huckleberries, which is phenomenal every single time. Leave Invermere with a full belly after a great day of skating.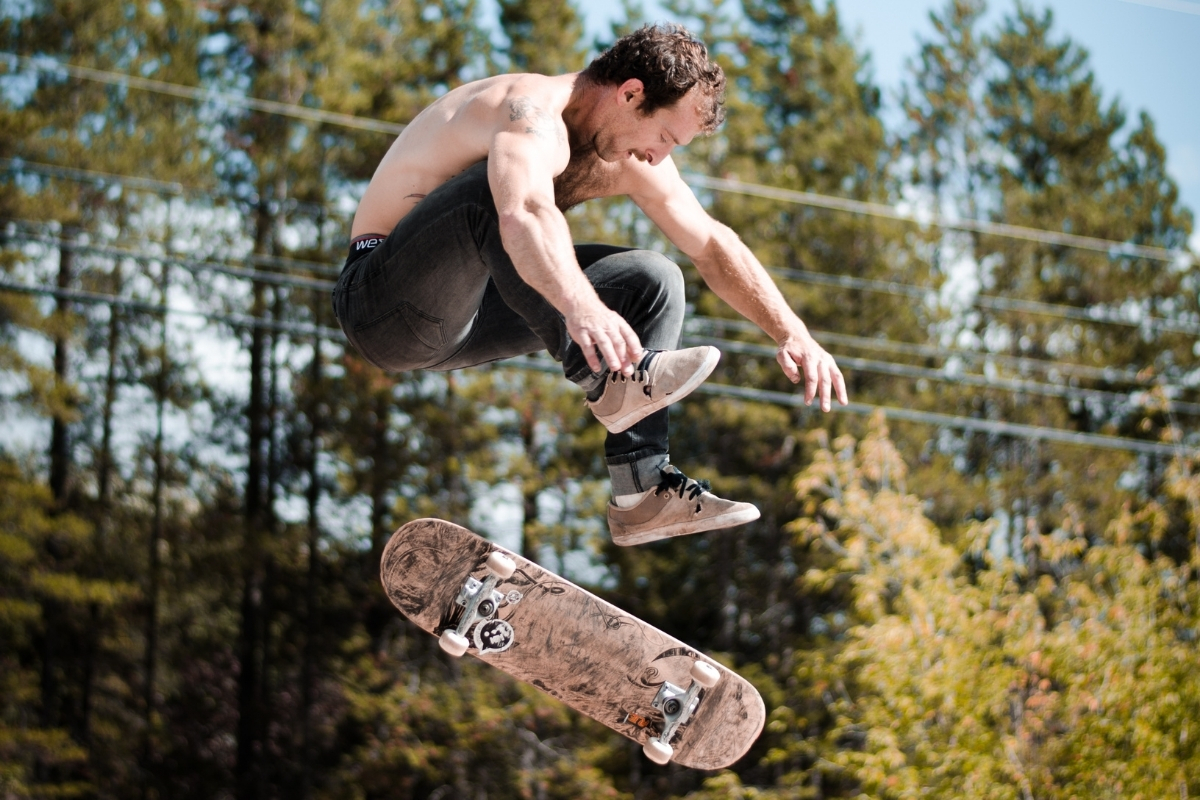 photo credit: Liam Westergaard
The last skatepark to visit on the list is Sparwood. Once again built by New Line Skateparks, and opened in 2018 this is possibly my favorite skatepark that I've visited to date. There is a huge bowl, manual pad, transition and so much more, it's just a great time when you're there. If you are looking for more to do in Sparwood you can always check out a mine tour.
You Might Be Interested In...