Cranbrook on the Rails Past and Present
September 12, 2018 | Connecting past to present via railway experiences in Cranbrook
Experiencing history has never felt so hands-on and as adventurous as it does in Cranbrook, B.C. After a short, smooth and scenic flight with Pacific Coastal Air, we landed in a new kind of paradise, and eager to explore the history of the southern Rockies region, we wasted no time.
Starting our day by wandering around town, we grabbed an authentic Kootenay Coffee and checked out the historical district of Cranbrook. Charming rail-inspired homes and buildings with playful murals and plenty of old growth greenery, line the streets providing plenty of visual appeal. With downtown offering unobstructed views of the towering Rocky Mountains, it's no wonder people chose to settle here years ago. Owning its bold claim of being the "Sunniest city in B.C.," we could only imagine that Cranbrook is a beautiful place to explore year-round.
Knowing of the adventures awaiting, we opted for a bike ride to see our first taste of Railway history. Snagging rental bikes, we headed for the Rails to Trails path where we met Bob Whetham, a long-time local with an extensive knowledge of the area – the perfect tour guide!
Saddling up, we made our way from Cranbrook to Kimberley, B.C. on the 26km long trail. Perfectly paved, we covered lots of ground quickly. The entertaining trail revealed stunning vistas in all directions, including views of the St. Mary's River, and the famous Fisher Peak. Our eyes didn't tire, but our legs finally did! A brief break in Kimberley called for a cold treat before we made our way back to Cranbrook, which was mostly downhill.
"What an experience it was to ride from one town to the next on what was previously a railway. It really connected us to a different way of life lived in the valley," exclaimed John Pappas, after getting a taste for the trail himself.
Bob offered insight to each spot and look out, including how the train manoeuvred the steep crossings. Signage dots the trail for further insights to your journey as you bike the Rails to Trails path and are worth stopping to read.
Sleeping in a Train
Earning a shower no doubt, we checked in the Cranbrook Prestige Hotel, ready for a bit of down time. Little did we know just how luxurious our accommodations would be. Rather than a room card, we were given a key and directions to head out behind the hotel, we'd be staying in a train car, not your average hotel room.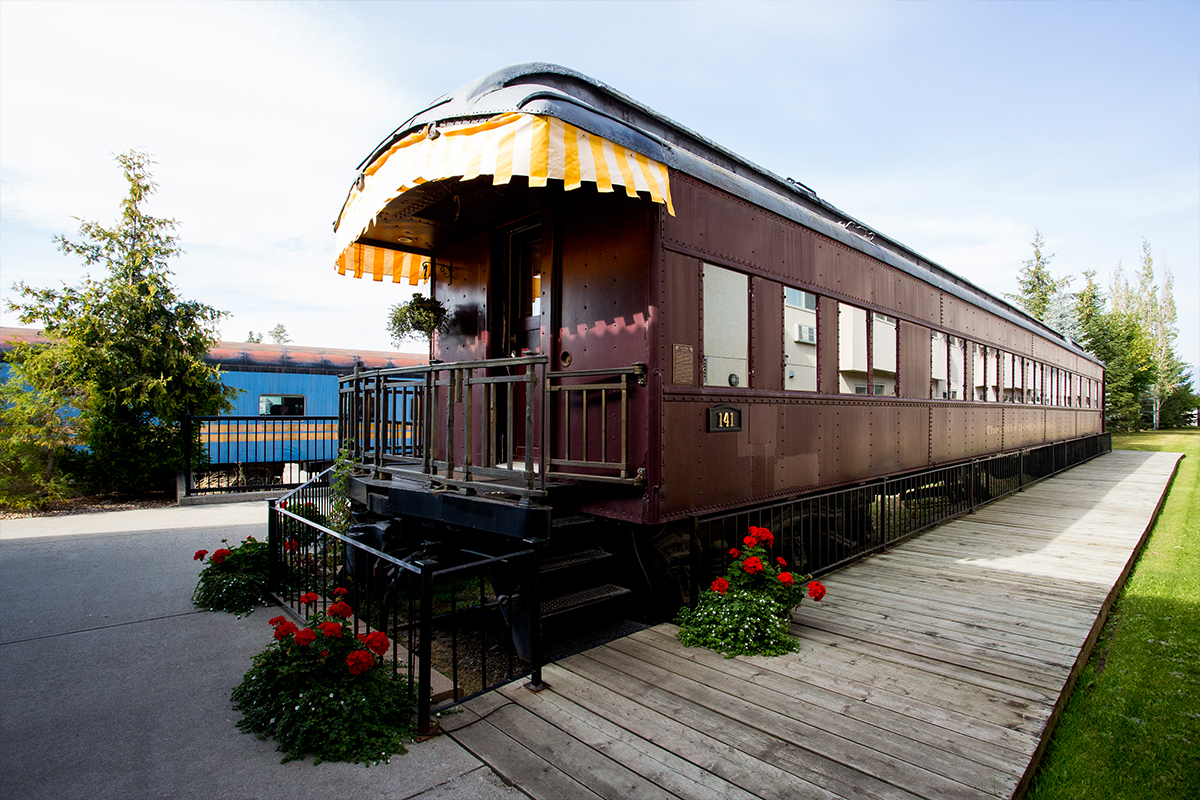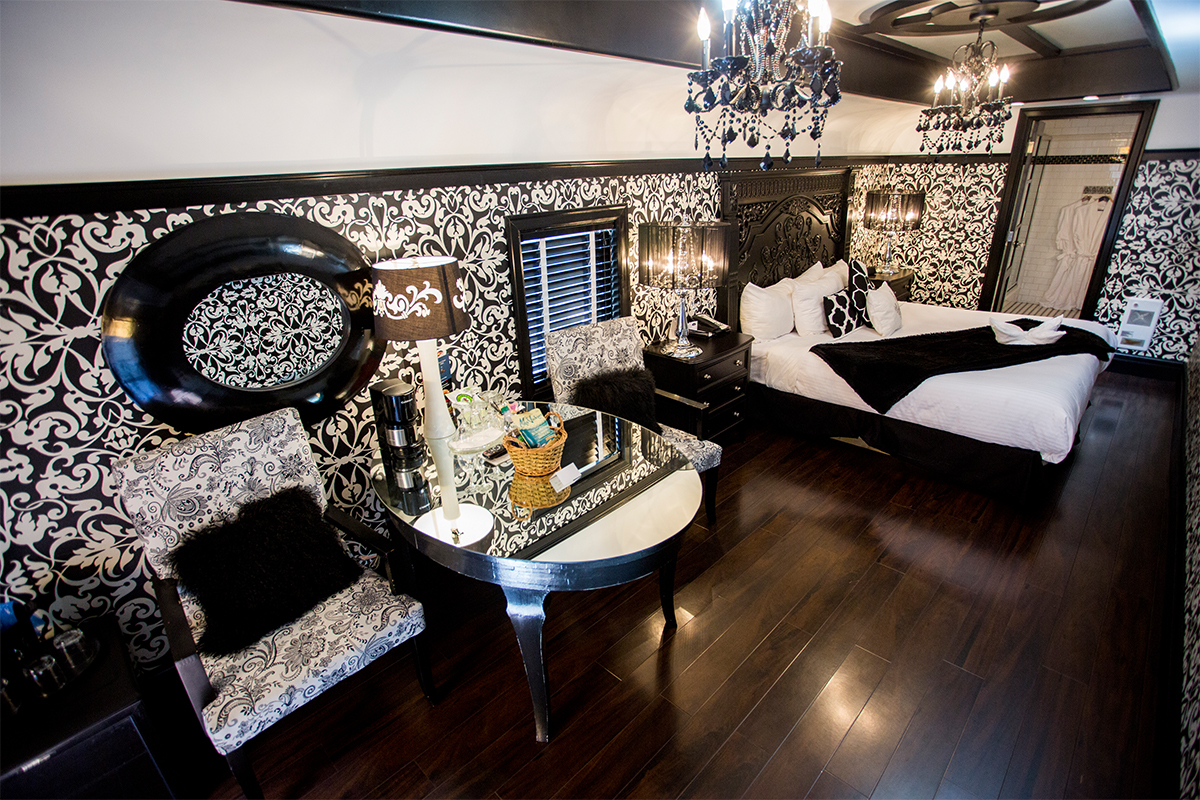 The exterior of the train looked perfectly restored to its original time period, with the only clue that it wasn't in operation were the flowers adoring its porch. Peeping through the door, the restored glam, luxury and comfort screamed to us, WOW! Feeling more like we were in a big city penthouse than in a mountain town train car, the contrast was fun and more than welcome. The Prestige Hotel offers two different train car sleeping experiences, one glam (featured in photos) and more traditional train inspired, each with all the same extras including a tiled shower, soaker tub, fridge, king-sized bed and big screen TV.
Train Museum
Needless to say we had an excellent sleep and were ready to see more of Cranbrook in the morning. A short walk from our accommodations is The Canadian Museum of Rail Travel. Don, our tour guide at the museum filled our minds with the rail history of the region. An impressive model railway system showcased the paths still taken from town to town and some of the older versions. Plenty of quirky stories of it creation and reasoning adorn the walls for entertaining reads. The museum also boasts some imported historical train architectural aspects, photographs and artifacts.
With 28 historical train cars, Don toured us through a selection explaining each cars purpose and design. Grinning, John soaked up unique experience of wandering through history and explained afterwards, "The biggest thrill of the museum was wandering the train cars outside. Ranging from fully restored to completely empty and some preserved, it was neat to see the many lives these rail cars have lived."
Fort Steele
Another absolute must for any visit to the southern Rockies is Fort Steele. Perfectly preserved, the town site is quite literally a walk in the past. An old theatre with active productions, a 1920s' style inn and of course, an old fashion candy shop are just a few of the many businesses that line the wide dirt roads. Horses work hauling hay into town and farm activities are fun for the whole family to experience, but the biggest must see in Fort Steele, is hands down the train ride. Hop on the train, a steam engine built in 1923, and tour the valley and town from the train yourself. Train connoisseur and history buff, Bob says it's, "The best way to get the lay of the land."
Connecting past to present via rail is a unique attraction to Cranbrook and hits a variety of travelling experiences. From biking to museums to unique accommodations and downtown, seeing Cranbrook with a bit of railway inspiration will surely make for a memorable trip. Much of this incredible preservation of history would not be possible with out the generosity of Destination BC and of course, the Columbia Basin Trust, we thank them for their foresight in protecting B.C.'s heritage and letting us experience it!
Connecting past to present via railway experiences is easy to do in Cranbrook.
Connecting past to present via railway experiences is easy to do in Cranbrook.