Fun at the Fort
June 29, 2022 |
Fort Steele welcomes visitors for another season of fun at the Fort! The staff at Fort Steele are working tirelessly to offer the best experience to their visitors and as off July 1st they will be open 7 days per week until the end of the season. However, due to staffing issues their offerings aren't fully consistent yet, they encourage all visitors to reach out ahead of their visit to ensure they get the right experience.
Starting July 1st, Fort Steele will be open 7 days per, with most of the offering being open from Wednesday to Sunday!
Here are some fun activities at Fort Steele Heritage Town for this summer.
1. Train Ride




The train is up and running daily. Enjoy a ride back in time with the 1077 Steam Engine and learn about rail travel. The train stops at a lookout halfway through your journey which provides a wonderful view of the valley including the Kimberly Ski Hill, Hoodoos, and Fort Steele. Don't have time to stop and see the entire park? Not a problem! The train is not in the park gates, so you can come out just for a train ride if you would like. The train will run throughout the season, it will depart every day at 11am, 12pm, 1:30pm, and 2:30pm.
2. Wander the Past


At Fort Steele you can step back into the 1890s frontier life. Take in Victorian architecture, gorgeous views and gardens, and learn more about how this town made it from boom to bust. We are dog friendly, but kindly ask you to keep your four-legged friend on a leash and pick up after them. There is a lot of ground to cover and you will be treading on boardwalks, dirt roads, and grass, so wear comfortable footwear. While many displays are currently closed you can find many informational plaques dotted around town which have been updated in the last couple of years by our curator. Our window displays are ready and waiting for you to gaze upon artifacts, and our animals are always ready to entertain you.
3. Wagon Ride


See the town in style on our wagon pulled by two strong Clydesdales. Let your driver be your guide as they take you around on a 15-20 minute journey. This is a wonderful way to see the lay of the land and experience what it is like to travel by two horsepower rather than one hundred eighty horsepower! Climb aboard and let the clip-clop of hooves take you back in time. Wagon rides will be offered Wednesday through Sunday, be sure to call ahead of your visit to check availability.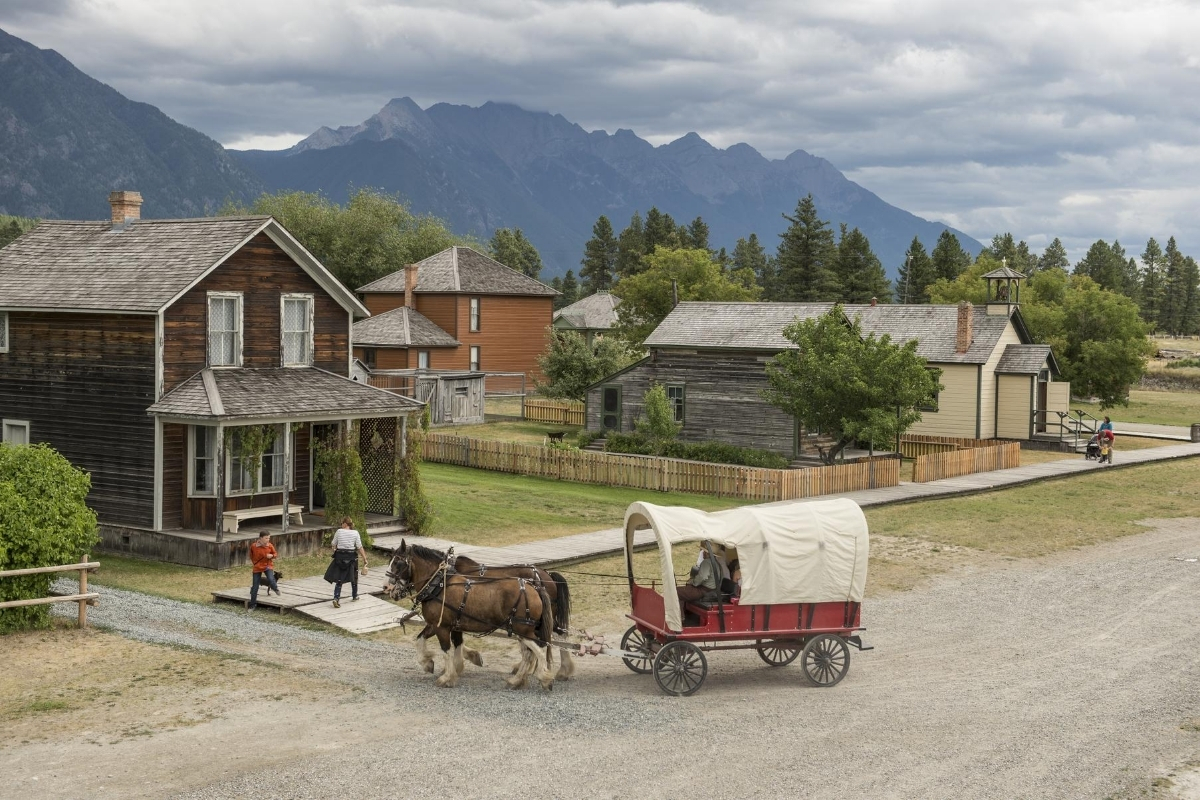 4. Sweet Treats

Mrs. Underhill's bakery is officially in operation for the season. Come get yourself a cinnamon bun, cookie, square and more! The bakery also has a few savoury options including sausage rolls and smokey rollups. There is seating in front and beside the bakery to enjoy your treats and have a rest in the shade. Come and see the recreation of Mrs. Underhill's bakery and the large brick oven used to make our beloved sourdough loaves. Head next door to see the original bakery which has started returning to the land and read up on the history of the building.
5. Enjoy a Picnic


Fort Steele has set up picnic tables in many places around the site including the Government building, the field, and the schoolyard. If you prefer to set up your blanket for a more traditional picnic we suggest looking at the green spaces in the schoolyard, Lambi yard, and of course the field to lounge in some shade. As the bakery has limited lunch options you may want to bring your own picnic food with you - but make sure to leave room for a cinnamon bun!
More Activities
Additional to all the fun happenings at Fort Steele, there will be daily tours and events on Wednesdays to Sundays. But be sure to call ahead to check out about cancellations! (250) 417-6000
Gossip Tour: Enjoy a tour of this lovely little town! Hear the stories the denizens would have been telling each other on the daily. It is only mere gossip of course! Or is it...?
Lambi Life, Bright and Early - Life starts early in the 19th century! Come see the morning routines of the household and the efforts made each day by the ladies of the home.
Lambi Life, Time for Tea - Enjoy the free goodies that are prepared at the coziest home in town! (While supplies last).
The Daily With Miss Baily - Come learn history the right way... in a classroom! Miss Bailey surely provides the best education this side of the rocky mountains!
Be sure to check out some of their era appropiate Youtube videos!
You Might Be Interested In...