Behind The Name
April 27, 2021 | By Alana Krushen
Exploring your local community can take a new light when you visit beloved places with a leg-up on their history. Did you know a popular Cranbrook biking trail is named after a dog? Or that Cranbrook's most prominent peak is named after a gold miner?
Read on to learn more about 4 of Cranbrook's favorite places, and why they were given the names we know them as today.

Chewbacca Rocka
If you're a mountain biker, Chewbacca Rocka is often the first sought-after trail in the spring. Offering diverse terrain winding through forest, steep rock, marshlands and even an open meadow. It is the first of many Star Wars named trails in the Cranbrook Community Forest.
"The story goes that the main trail builder Andrew Mcleod was scratching in a trail with water stops for walking his dog Toque. Toque was a big Chocolate Lab who liked to howl at sticks. His howling sound earned him the nickname I gave him: Chewie. Toque passed away some time before ( or just after ) the trail was finished, so we named it Chewbacca Rocka in honor of Toque. From there, started the Star Wars theme for naming trails on that side of the Community Forest. The trail had pretty humble beginnings as a 'scratched in' trail, but has become a well-established, official, and cherished trail in the Cranbrook network."
- Ryan Hamilton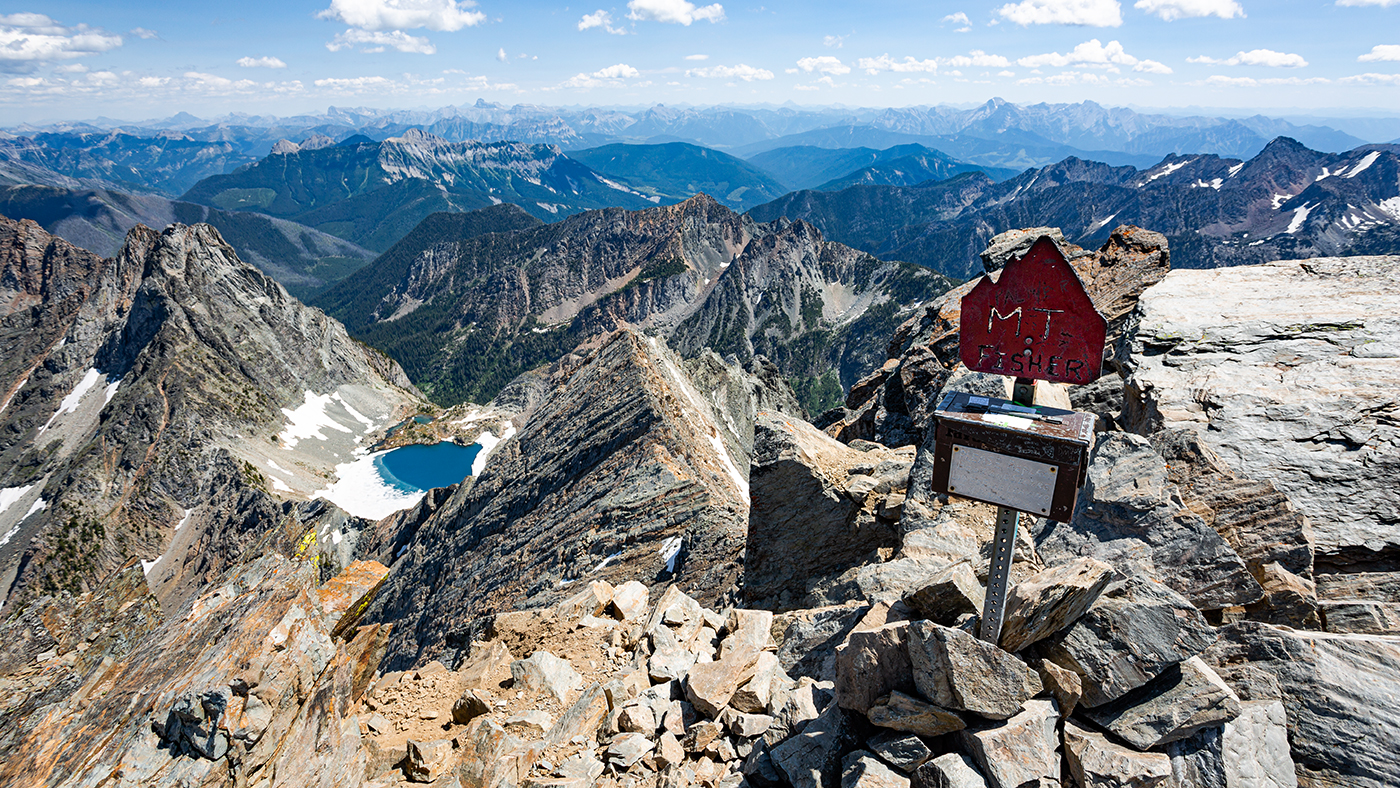 Fisher Peak
Protruding from the eastern skyline, Mount Fisher can be viewed from most areas in the Cranbrook/Kimberley area. Nearing Mount Fisher is the infamous Wildhorse Creek, which is part and parcel to Mount Fisher, and also home to Fisherville. Despite what you may think, Mount Fisher was not named after a mountaineer, or backcountry explorer. Mount Fisher was named in 1915 in memory of Jack Fisher, who was one of the first to discover gold in Wildhorse Creek in 1863.
Despite the official name "Mount Fisher", it is now almost exclusively referred to as Fisher Peak. If you're looking to summit this incredible peak, it is very likely that you will share the mountain with a variety of experienced climbers, weekend warriors, and inexperienced people alike. If you are attempting this climb and you lack previous mountain experience, please take every precaution for a steep journey filled with diverse terrain and exposed rock scrambling.

Jimsmith Lake
Arguably the most popular lake in Cranbrook, Jimsmith Lake is known best for its grassy shoreline, calm waters, and close proximity to town. Cranbrook's first newspapers made mention of the lake as "Jimsmith Lake" in 1898.
Inquiring with the Cranbrook History Centre, the consensus is unclear of any positive proof for the name Jimsmith Lake. Dave Humphrey explains: "Although, there are various guesses behind the name… One was that it was named after a farmer who owned land at the edge of the lake. The second, is that it was named after one of the original discoverers in the Wildhorse. There have been several attempts at finding why the original Jimsmith Lake name, but I don't think anyone has found definite proof. It has gone through several name changes: Smith Lake, Jimsmith Lake and Jim Smith Lake."
As a side note - Dave goes on to tell us: "The flow of the lake is very connected throughout Cranbrook. It's overflow comes down to Elizabeth Lake, wanders down to Van Horne Park, and then goes underground though a culvert by the History Centre. This culvert crosses under Cranbrook City, going under Rotary Park, follows under Kootenay Street and eventually comes out into Joseph Creek close to the Save-On Mall. The culverts were all hand-made by city workers in the old curling rink."

Elizabeth Lake
Another undetermined name in history is Elizabeth Lake. It has been documented as such from the early 1900s, though no evidence of the name's origin could be found." Elizabeth Lake had been an area of much discussion and speculation. Proposals put forth generally fell into the category of 'drain the marsh and use the land' or 'dam the marsh, and use the lake.'"- "The Basin Record" through Columbia Basin Trust.
According to the Water Rights Branch, this has been called Elizabeth Lake and Cranbrook Marsh. Elizabeth Lake Provincial Park was established in 1962 and transferred to local government administration in 1968. The marsh level was raised at one time, but this caused flooding in Cranbrook, and now the Fish and Wildlife Branch are maintaining this at its original level.
You Might Be Interested In...