Fishing
Spectacular fishing experiences live here.
Bold? Maybe. True? VERY.
Our rivers and streams are ideal for fly fishing & drift boats, while the long, deep lakes are perfect for trolling and spin casting.
The Cranbrook region offers some of the best trout fly fishing in Canada. In the summers, lakes and streams can be found stocked in abundance thanks to the Kootenay Trout Hatchery. In the winter, the lakes are dotted with tents as fishermen take to the frozen waters while fish are hungry and without access to food.
Cranbrook and the surrounding areas fall under the Provinces Region 4 Kootenay Regional Regulations. Each lake and river have differing allowances for fishing of each species, bait use, and catch and release regulations. We encourage you to check the regulations before embarking on your trip.
→ 309 LAKES
→ 1183 RIVERS/STREAMS

---
Regional restrictions prevent river fishing between April 1 to June 14, but anglers head to the lakes between April and June, when fly fishing is excellent. The only river exempt from this restriction is the Kootenay River. Fishing here is popular on weekends all year long.
→ River fly fishing for rainbow and cutthroat trout, Whitefish and Bull Trout from July to October is popular in the Columbia River, Toby Creek, Bull River, Kootenay River, Skookumchuck River, St. Mary's River, and Findlay Creek.
Fishing is the premier attraction at Premier Lake Provincial Park, (see what we did there?) located at the north end of Premier Ridge in the Hughes Range of the Rockies. Fishing is good year-round in this park, with fly fishing best between May and July, and ice fishing is popular in winter when road access to the boat launch is maintained by The Ministry of Transportation & Highways. Premier Lake and three other, smaller lakes offer great angling for trout: rainbow, and eastern brook.
Premier Lake is equipt with a concrete boat ramp.
The Kootenay Fish Hatchery collects trout eggs from these lakes, and the Fish and Wildlife Branch has a fish trap here with an interpretive display. This is a great place to check out as a day trip with the family.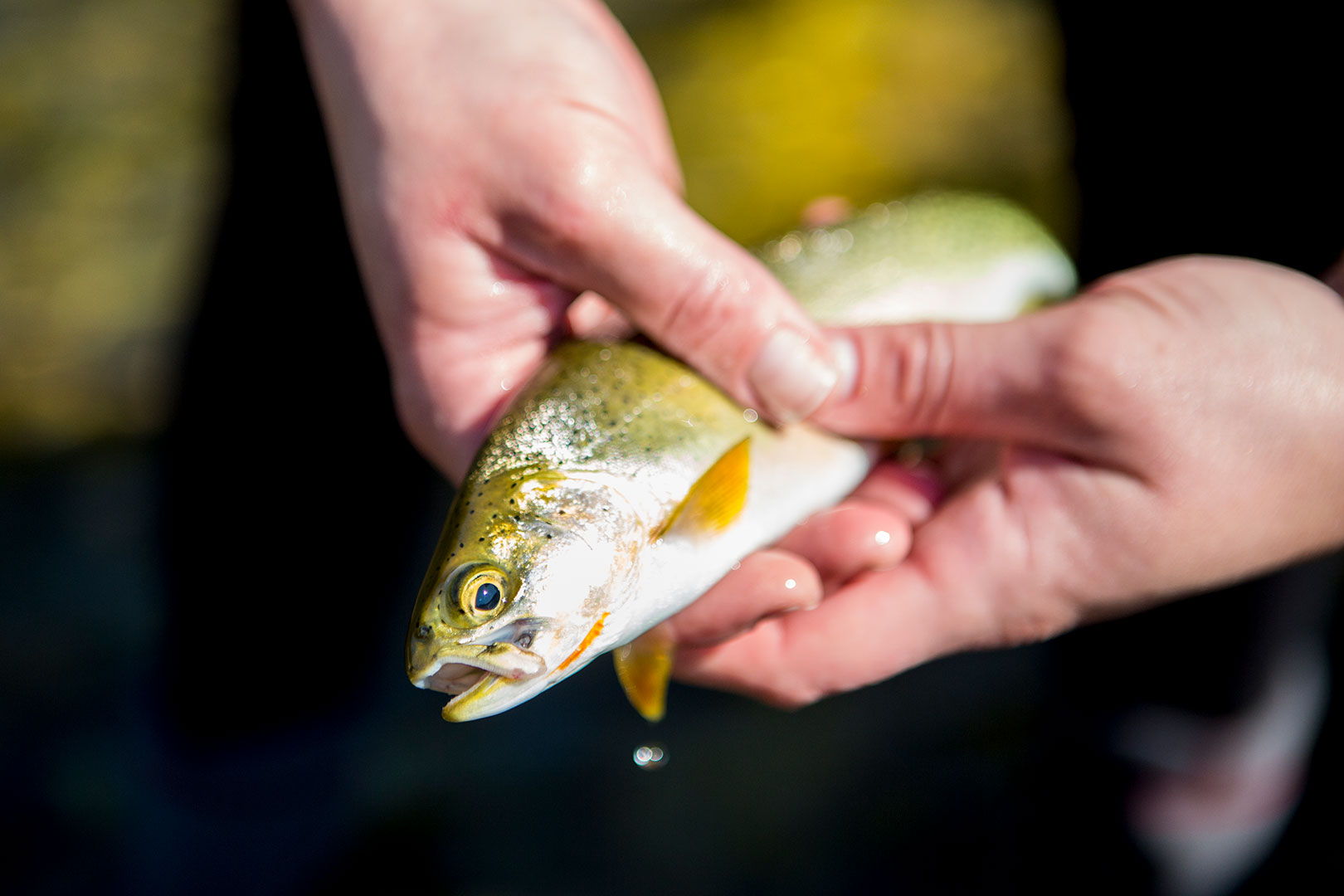 Abundant fish populations in Whiteswan Lake and Alces Lake, both wholly within Whiteswan Lake Provincial Park, led to the establishment of this semi-wilderness park. Both lakes are managed for high-yield fisheries, resulting in one of the highest quality rainbow trout fisheries in the East Kootenays. Rainbow trout have been stocked in the lakes since 1961, with annual releases of about 30,000 fingerlings. Steps taken to make the fishery self-supporting include improvements to the spawning channel, prohibiting motorboats on Alces Lake, and restricting angling to fly-fishing only. Whiteswan Lake also provides ice fishing opportunities, but fishing is not permitted from December 1 to January 2.
Concrete boat ramps are located at Whiteswan Lake beside the Packrat Point and Home Basin Campgrounds. Car-top boats can be launched at the Alces Lake Campground. Boat launches at Alces Creek and Inlet Creek are gravel.
Licenses, regulations and more information can be found from the BC Government Fish and Wildlife Branch website. It is recommended to refer to this website before heading out for important safety tips and notices as well.
---
gofishbc.com for more information