Frozen Waterfalls in Cranbrook BC
November 21, 2022 | By Steve Tersmette
Cover image: Moyie/Lumberton Falls by beckapegleg
Gone are the dog days of summer and the last signs that it even existed at all are now buried in snowflakes. As the mercury plummets to inhumane levels, many are content to retreat into their homes with their outdoor gear stowed for another winter. But winters can be long here in the East Kootenay and five months hiding under a blanket never did anybody any good.
Fear not citizens; for no longer will you be confined to the warmth and comfort of the indoors during those cold winter months. There are plenty of opportunities to keep your hiking boots from collecting dust and here are half a dozen close-to-home outings to help make our point.
Here in Western Canada we are blessed with an abundance of mountains, streams and snowfall. The combination of these adds up to a collection of waterfalls that flow year-round. While most will wait until they return to a roar during the spring runoff or take refuge near one during the heat of the summer, a frozen waterfall in the wintertime is truly a sight to behold.
Winter also brings a very unique set of hazards, so before you pack your bag and go, here are a few tips to keep you safe and make the most of your winter waterfall experience.
-Winter is cold. That means toque, mitts, warm jackets (even snowpants), sturdy footwear and warm socks. Even a spare pair of your socks for your daypack is a worthwhile addition.
-Winter is dark. The days are short so plan accordingly. While these hikes are all short, a good idea is to start early and finish early. This way if there are any hiccups along the way or you spend more time taking photos, you still have daylight left when you're done.
-Winter is slippery. A pair of snowshoes, traction devices or micro-spikes are highly recommended. It doesn't take much foot traffic to pack down a trail into a skating rink. Hard-packed snow can be as slippery as ice. Remember to give creek banks a wide berth as the snow can disguise the actual bank and other hazards. Also, stay off creeks in the winter as ice may be very thin, brittle and unsupportive.
1. Moyie (Lumberton) Falls – Cranbrook, BC
21km from Cranbrook - Get directions here
Moyie Falls is rapidly becoming Cranbrook's most poorly kept secret. It is a popular short hike at any time of the year but its reputation is well deserved. The Moyie River splits a pair of tall cliffs and pours into a pool below.
Note that after a snow fall, access to the falls may be inaccessible for days at a time and can vary with the maintenance of the road. The Lumberton Road is narrow, windy and can be extremely slippery so ensure your tires are adequate. All-wheel or four-wheel drive vehicles may be necessary depending on road conditions.
From Cranbrook, drive west on Highway 3 for 13km to Lumberton Road. Turn right and follow Lumberton Road for 7.2km to a hairpin turn in the road. Depending on conditions you can either park in a small parking area with a turn-around just off the road to the left, or if space is available, park along the road itself.
From the parking area, walk past a yellow gate and descend a spur road until it reaches the Moyie River. From this point, you can either walk in the stream bed on the right, or, if you can find a safe place to cross the river, follow along the bank of the left-hand side of the river all the way to the base of the falls. It is about 1km from the gate to the waterfall, approximately 20 minutes each way.
2. Marysville Falls – Kimberley, BC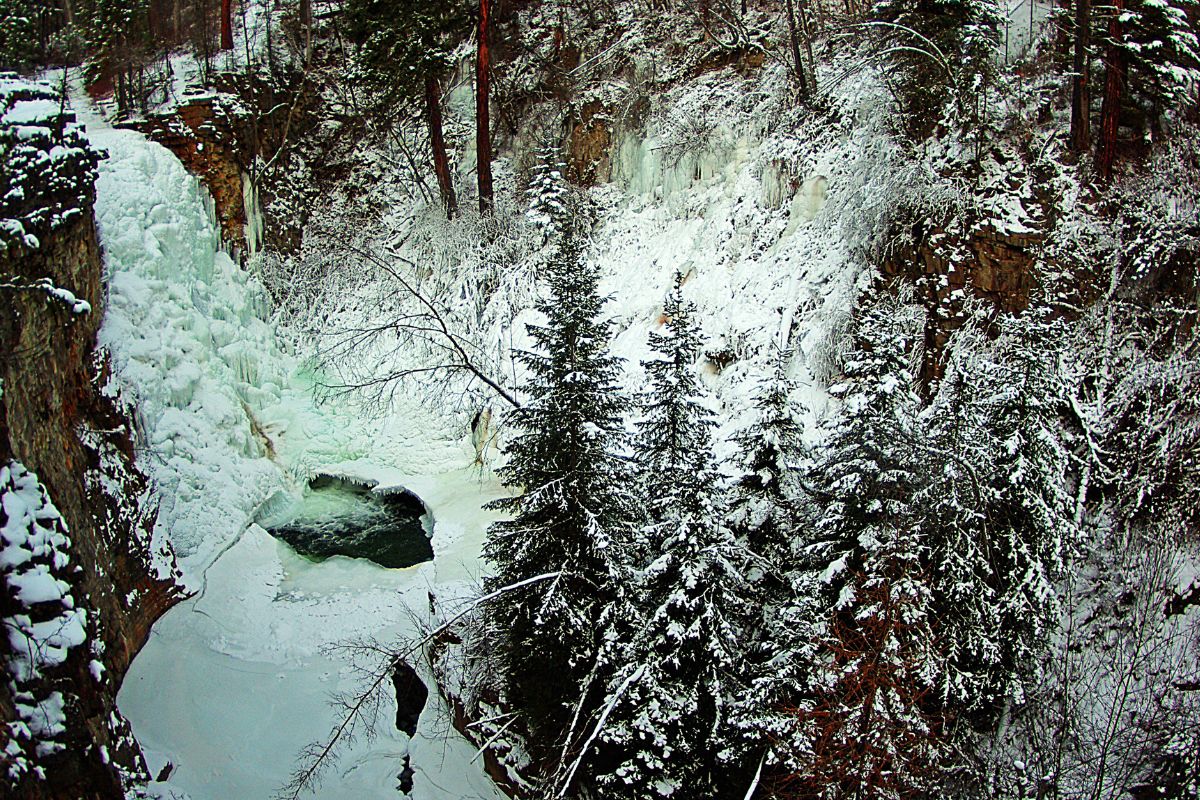 Photo by Steve Tersmette
26km from Cranbrook - Get directions here
This may be one of the most recognizable and easily accessed waterfalls in the East Kootenay. Its convenient location off the highway in Marysville (southern part of Kimberley) and its short distance makes it a very popular outing year-round. In Marysville, locate the Marysville Falls signs near the bridge over Mark Creek. There is street parking along the south side of the street or a larger parking area to the north. The walk to Marysville Falls is a short 300 metres that can be quickly dispatched in under 5 minutes even with kids and animals in tow.
Note that at the time of writing, the trail to Marysville Falls is temporarily closed while the boardwalk pathway is being reconstructed.
3. Cherry Creek Falls – Kimberley, BC
42km from Cranbrook - Get directions here
Cherry Creek Falls is a hidden gem just outside of Kimberley in the Meadowbrook area. The falls are more of a large waterslide than your textbook waterfall feature, but the easy access and secluded area make for a nice afternoon outing with the dogs, kids, your neighbor… whoever. There are picnic tables and fire pits on site so bring some firewood, smokies and your hot chocolate.
From downtown Kimberley, drive north on Highway 95A for 7km to Thomason Road (signs for Cherry Creek Regional Park). Turn left onto Thomason Road then right onto Claricoates Road. Follow for 1.7km to a parking area for Cherry Creek Falls on the right. The final 700 metres of Claricoates Road is generally not maintained, however, it usually sees enough traffic that access isn't a big problem. After a big snowfall or, if the road is in too poor of shape to drive, you can walk or snowshoe the additional 700 metres to the parking area. From here it is only 250 metres and less than five minutes to the falls.
4. Bull River Canyon – Wardner, BC
50km from Cranbrook - Get directions here
Just downstream of the Aberfeldie Dam on the Bull River is a deep narrow canyon whose walls become lined with ice in the wintertime. If it's not too warm during the winter and the ice is in abundance, you may see climbers testing their skills on these vertical curtains of ice. The best, and safest viewing, is from the bridge over the Bull River.
To get to the Bull River Canyon from Cranbrook, drive east on Highway 3 for 9km then exit north onto Highway 93/95 signed for Radium Hot Springs. Drive north for 8km to Fort Steele, then turn right at the Esso gas station on the Wardner – Fort Steele Road. Follow this for 21km, then turn left onto the Bull River Road. Drive the Bull River Road for 8km to a bridge over a canyon with the river far below. Please note that while this road is maintained, it can be extremely slippery and often has the use of commercial or industrial traffic. Drive with caution at all times and give trucks a wide berth.
5. Findlay Falls – Canal Flats, BC
94km from Cranbrook - Get directions here
This small waterfall near Canal Flats is popular day trip in the Columbia Valley but not nearly as popular in the wintertime. From Canal Flats, drive north on Highway 93/95 for 2.6km, then turn left onto Findlay Creek Road (signed for Blue Lake Camp). Drive the Findlay Creek Road for 4.7km then turn left into a parking area for the Findlay Falls Rec Site. This is a forestry service road but is generally well-maintained. After a significant snowfall, the falls may be inaccessible until the road is plowed.
From the parking area, locate the brown trailhead marker pole and follow a trail west for 500m to Findlay Creek near the base of the falls. There is one steeper section of the trail that may require extra caution depending on conditions. Snowshoes may be necessary.
6. Fairy Creek Falls – Fernie, BC
102km from Cranbrook - Get directions here
This popular hike starts right behind the Fernie Visitor Centre just off Highway 3 near the wooden oil derrick. A 2.0km, well-marked hike through a wooded area leads you a waterfall along Fairy Creek. While the best time to visit this one might be in September when the leaves are changing color, it does remain accessible year round. After a heavy snowfall, snowshoes may be required until the trail is broken again. Allow 40 minutes each way for this Fernie favorite.
While there are many other waterfalls to explore in this region, may become inaccessible in the winter without a snowmobile or due to avalanche hazards. Always check weather and road conditions before heading out.
About the Author
Steve Tersmette lives and plays in Kimberley with his wife and two children. When he's not working as a carpenter, he can be found playing in the mountains or writing long into the night. Steve enjoys long walks in the snow, IPAs and 'dad jokes'. Steve is also the author of Waterfall Hikes in Southern British Columbia
Coming soon: Waterfall Hikes in the Canadian Rockies – Volume 1 – South (Waterton to Lake Louise)
You Might Be Interested In...