Sunshine Houseboats Waterpark
July 27, 2020 |
This year has been a test of patience for those of us who love to explore. Thankfully, here in the Kootenays, our backyard is magical! If your sun, sand and surf travel plans have been kyboshed, look no further than Sunshine Houseboats & Marina for your backyard bucket list replacement! Because when life gives you lemons, throw them in the fridge and go to the beach!


Sunshine WaterPark
Tourists and locals alike are often shocked to learn that Koocanusa is home to a giant inflatable waterpark. Tucked in the quiet corner of Gold Bay, this waterpark is anything but hush. Usually packed with hundreds per day, the sound of fun and excitement echoes over the water. While the Sunshine WaterPark is still open, despite covid; space is limited to 50. So you must book ahead on the WaterPark's website to make sure you get a spot.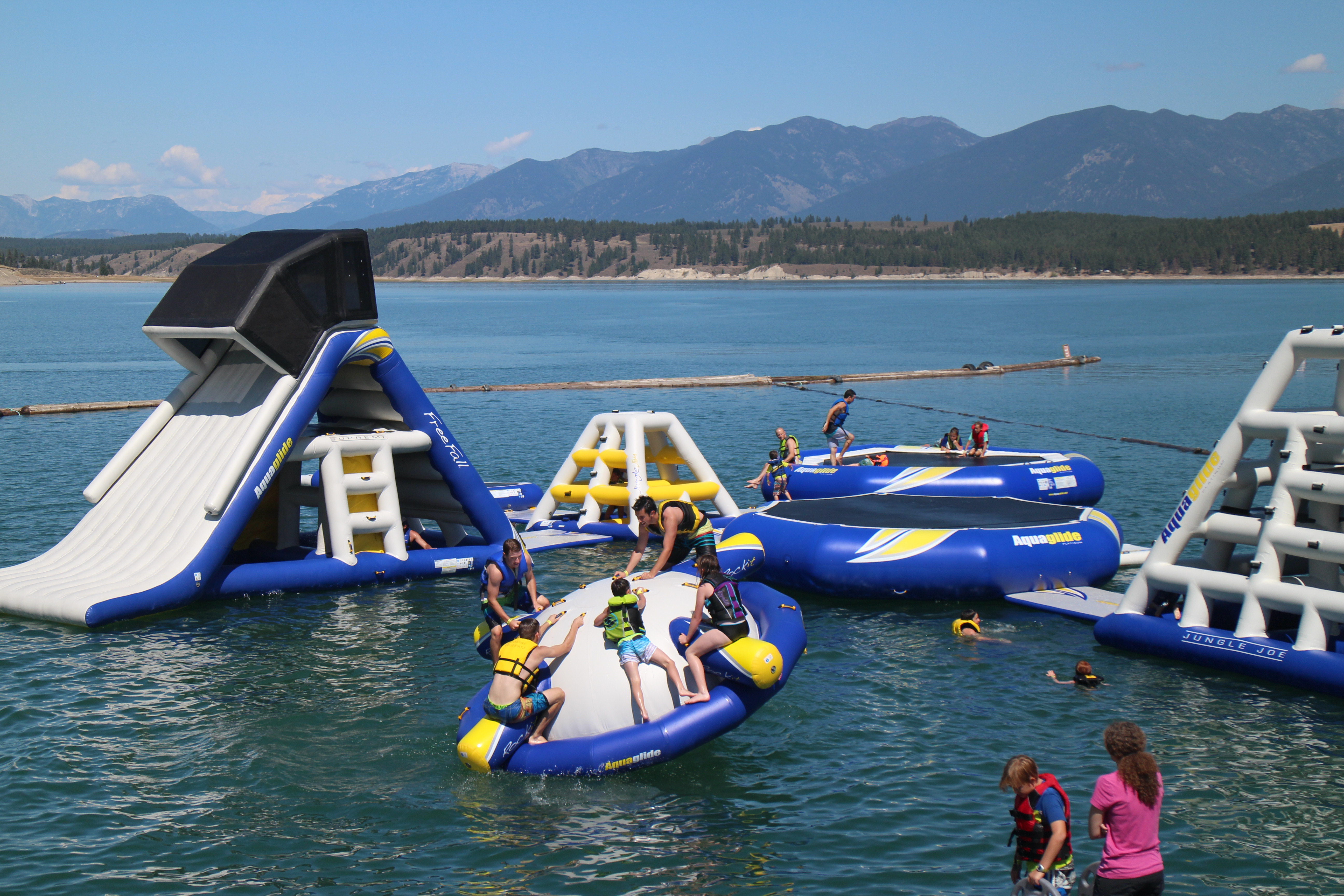 WakeSurf Boat, SeaDoos and Pontoons
If you have a need for speed while on the water, don't miss out on Sunshine's new toys! With a Super Air Nautique WakeSurf boat and GTI 130 Pro Seadoos on the roster, along side pontoons and sport boats, it's no wonder why locals and tourists alike are flocking to Koocanusa for some insane fun. Pair them up with wake boards, tubes, or ski rentals and there's no reason to seek out any other lake.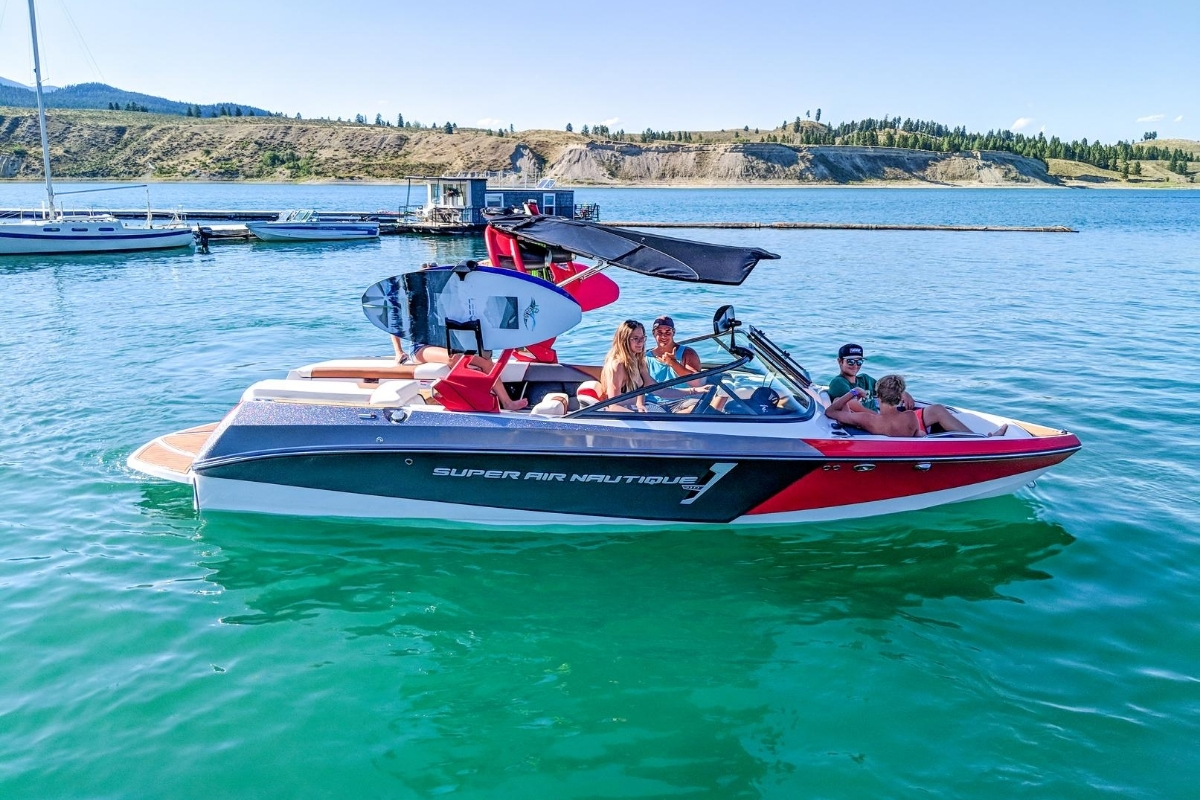 Paddle Board and Kayak Rentals
If slow and steady is more your pace, try paddle board and kayak rentals. With over 200km of undeveloped shoreline, the unending landscape at Koocanusa is a paddlers dream. Though Gold Bay itself is surrounded with enough beauty to last you an entire weekend. Paddle across the Bay from Sunshine's Marina and you'll find some of the nicest sand on the entire lake!
Dockside Cantina & Driftwood Store
Make a day of it! Whether it's nachos and a slushie at the Dockside Cantina, or fueling up at the Driftwood Store, Sunshine has made itself an all in one destination. Pack light and make a day of it or stay all weekend. If you forget something, they probably have it. You can also pick up all the KOO CAN USA swag your heart desires while you're there too! The creative work of Sunshine daughter Britt Cullum, the KOO CAN USA brand is sport by locals and tourists from around the world.
Houseboats
If you haven't been on a Sunshine Houseboat, you haven't experienced the Kooc at it's best! Imagine sunrise mornings on the top deck with coffee. Playing in the sand and water all day. Enjoying some brews and a fire on the beach each night. With seven different styles of houseboats to choose from, there is a boat for everyone. With Sunshine's thoughtful covid healthy and safety plan, you can trust that you're travelling safely in your own backyard. So, gather your family and get out there!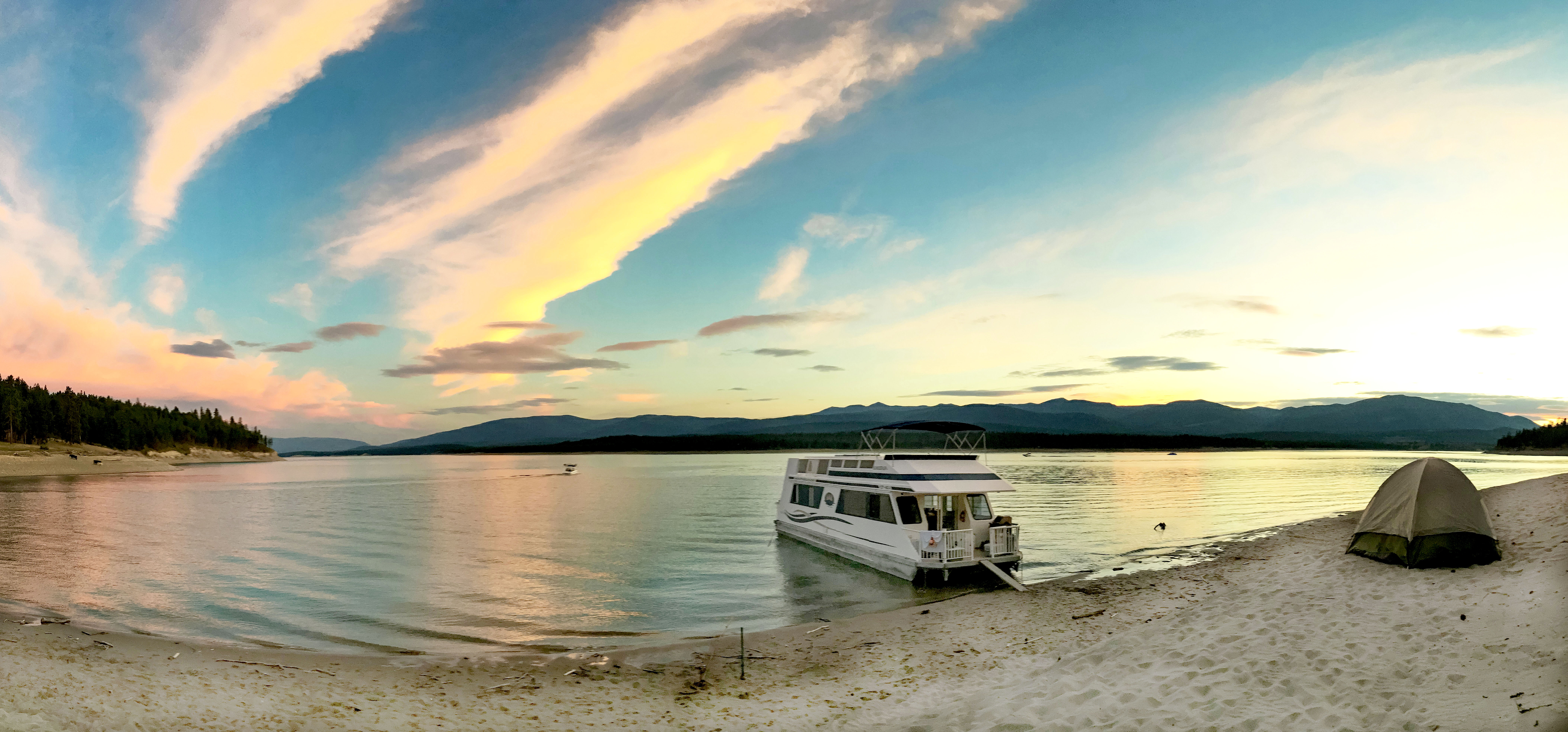 Sunshine Houseboats is located at Gold Bay on Lake Koocanusa.
Directions from Kikomun Bridge to Sunshine Marina:
· Cross the Kikomun Bridge (AKA Bailey Bridge) which spans Lake Koocanusa. This is just a short distance from Kikomun Creek Provincial Park.
· You will then continue past the Koocanusa Marina store (on the left) after you cross the bridge.
· Take the first left hand turn onto Newgate Road, you will see a Sunshine Houseboat Vacations sign on this corner.
· Travel approximately 29km (18mi) to the Sunshine Marina entrance, which is a left turn off the main road (indicated by a sign).
· Lastly, take the access road to the main parking lot.
* Please note: when you are travelling on Newgate road, you will know you are very close when you see a sign that says "Gold Bay Recreational Site". Once you see this sign, we suggest you slow down because our turn off is of the same and is just on the corner ahead.
You Might Be Interested In...