Find out more about hikes around Cranbrook
May 15, 2018 | By Michele Leyenaar and Janice Strong
Cranbrook lays claim to some of the best hiking trails in the province. Hikers can enjoy soaring mountain peaks, crystal-clear lakes, lush green forests, and wildlife while trekking through spectacular settings. Here are some of the top hikes in Cranbrook.
See HIKING and PARKS in the EXPERIENCES Section on this website for details. Also, check out the BIKING section.
Some of the parks and easy close to the city trails to check out;
Elizabeth Lake in Cranbrook's Confederation Park. Stroll the easy paths while looking at the dozens of bird species. Walking trails meander along the shoreline of the wetlands.
Cranbrook Community Forest is crisscrossed with kilometres of hiking and biking trails that weave between forest, grassland and three small lakes.
Noth Star Rails to Trails is a paved 28 km trail from Cranbrook to Kimberley.
Idlewild Park is a city park surrounding a small reservoir at the south end of the City.
Chief Isadore Trail follows a former railway grade for most of its 43 km length toward Wardner.
Rotary Park in downtown Cranbrook has a playground, spray park, shade trees, picnic areas, washrooms.
Mount Baker Park just a few blocks from downtown has a picnic area, Joseph Creek and an RV campground.
Kinsmen Water Spray Park has a children's spray area and sports fields. It is close to College of the Rockies.
Muriel Baxter Off-Leash dog area is a fenced playfield in the middle of Cranbrook where your dog can interact with other dogs and run off leash.
Viking Skate Board Park for playing on concrete ramps, for trick bikes and non-motorized stunt toys.
Further Away
Mause Creek Tarn is one of Cranbrook's most popular moderate hikes. Reward yourself after the hike with ice cream in Fort Steele Resort and RV Park. The best part? The trails are closer than you think.
Wycliffe Buttes is between Cranbrook and Kimberley and a short hike gets you to viewpoints of the Rockies and Purcell Mountains.
Silver Spring Lakes is near the small town of Elko, (highway #3) is a moderate hike to three-deep lakes.
Premier Lake Provincial Park not only has a big deep lake for fishing, boating and swimming, it offers a moderate hike to three lakes.
Top of the World Provincial Park maintains vast wilderness areas and trails into the mountains. The core of the park is Fish Lake.
****
Top Tip!
For more about hikes in the East Kootenay, including Cranbrook, Kimberley, Invermere, Fernie, Creston, get the local guidebook by a Cranbrook author.
Janice Strong has been a long-time guidebook author to the area.
Her 4th Edition of the book Mountain Footsteps Hikes in the East Kootenay of Southeastern British Columbia.
It is published by Rocky Mountain Books
It was just released in April 2018 and it was the BC Bestsellers List. Mountain Footsteps has all the latest on hiking in the southeastern part of BC.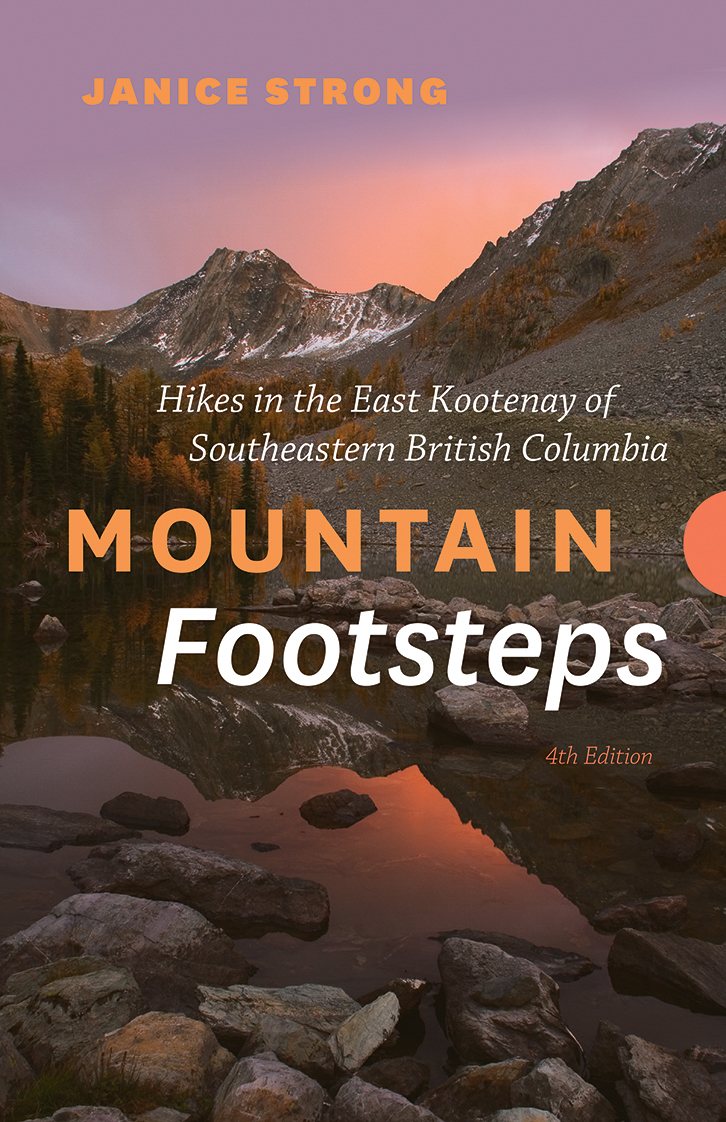 ****
For other trails in the area check out our mountain biking article where you'll find trails suitable for two wheels and two feet.
If you're visiting solo and don't want to hike alone, connect with the East Kootenay Outdoor Club who organize regular hikes in the Cranbrook area on weekends and weekdays.
Get outfitted at Gerick Sports, Mountain Man Outdoors or High Country Sports, all located right in downtown Cranbrook.