10 Hikes with Great Views
June 22, 2020 | By Lianne Thompson
Cranbrook is spoiled when it comes to awe-inspiring hikes, but it can sometimes be difficult to track down information on each of these stunning views. Here are 10 amazing hikes with phenomenal views showing off the glory of our own backyard. Bonus: these hikes are all within a 2-hour drive and accessible with any vehicle.
Devils Hole - Beginner
A hike up to Devils hole is perfect for beginners with a thirst for a quicker trail that still offers a fantastic reward. Only requiring a couple of hours to complete this 4.6km round trip hike, Devils Hole has some steep sections but is a fairly easy climb through forests and open meadows. It is easy to navigate by following the red arrows guiding hikers towards the top. Enjoy a snack at the summit while taking in a beautiful aerial view over a small but brilliant pond below.
How to get here:
From Cranbrook head north on highway 3 & 95 towards Invermere. Turn right on Lakit Road (just past Fort Steele). At the T-junction for Top of the World Ranch, turn right down Holmes Road. After 750m, turn left on Lakit Creek Forest Service Road and follow this road until you see a sign for "Branch C" turn right and park at the end of the road just past a gate.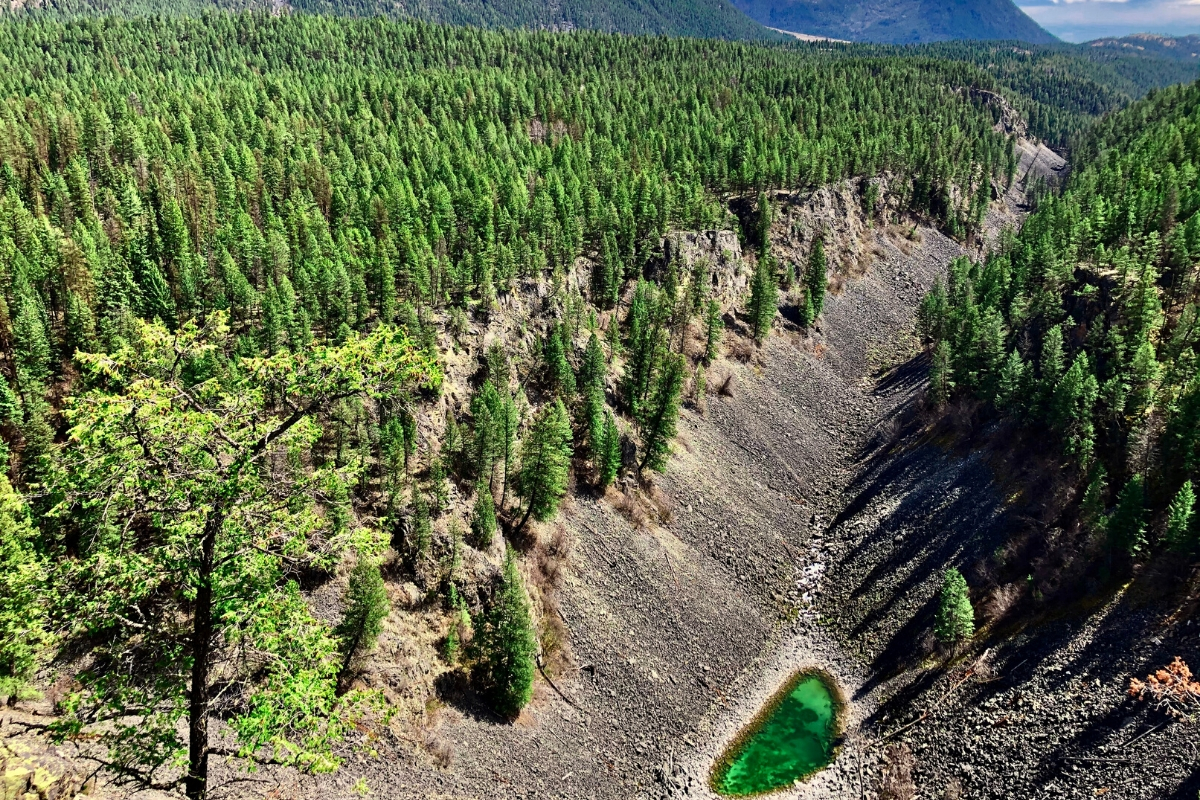 Eager Hill - Beginner
Located within Cranbrook Community Forest, a journey up Eager Hill is a perfect quick hike that can be accomplished in about an hour. With less than 3.0kms of trail, Eager Hill does have an incline up to the summit but has great views the whole way up. Walking up an open grassy knoll it is a perfect stroll to enjoy the sunshine and enjoy a variety of wildflowers. At the summit, there is a bench and picnic table, making for a perfect spot to enjoy a snack while taking in the beautiful views of the Rockies.
How to get here:
From Cranbrook head north on highway 3 & 95 towards Fort Steele. Approximately 4.2km after the overpass to Kimberley, there is a gravel road on the left-hand side at the base of a large rock bluff. Follow the road up to the trail head.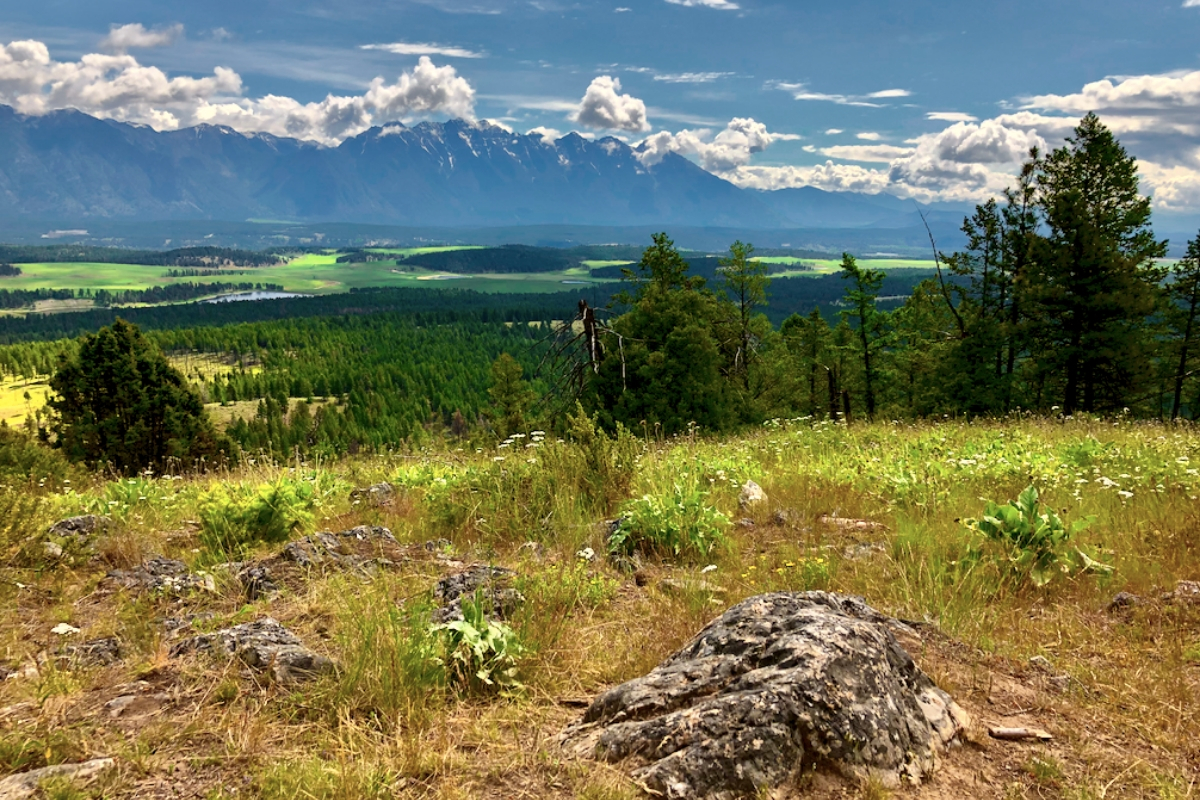 Hoodoo Trail - Beginner
Get amazing views of the Rockies and Columbia Lake all while standing on top of impressive hoodoo rock formations. Clocking in at only 3.2km round-trip, hoodoo trail is well-marked, offers high reward for minimal effort and can be completed in under two hours. For the naturalist hikers, there are interpretive signs throughout the trail to teach you of the landscape and wildlife all around. Given the ease of this hike, it truly has something to offer to everyone.
How to get here:
From Cranbrook head north on highway 3 & 95 towards Invermere. Continue for a little over an hour, eventually turning left of Westside Road. A well-signed parking lot will be on your left after 1.2kms.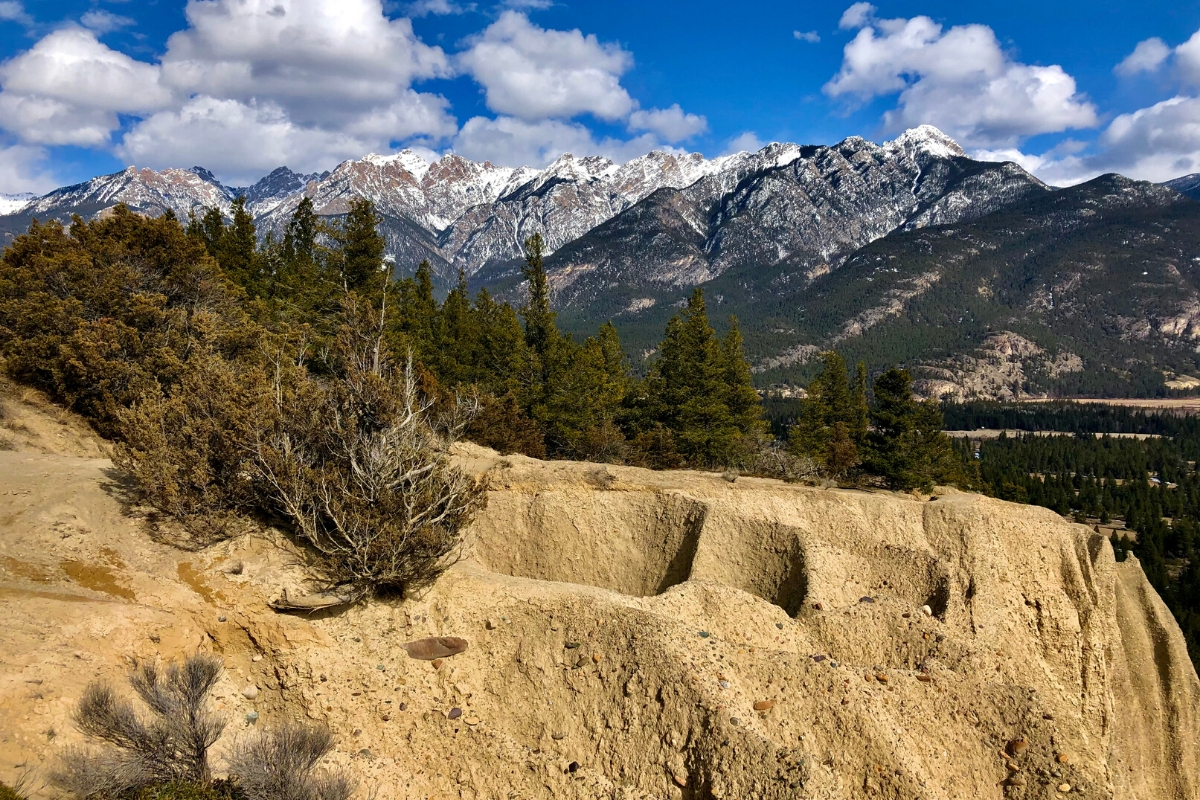 Wycliff Buttes - Beginner
It's no wonder that this hike is one of the most popular in the Cranbrook area. Offering a chance to enjoy views of the BC Rockies to the east and the Purcell range to the west, Wycliff Buttes will have you wandering through open meadows on an easy incline over a 2.4km hike. It is a fantastic trek for all ages and abilities, and it can also be made longer by continuing to hike east up to the second overlook. These stunning mountain views are a great option at any time of year!
How to get here:
From Cranbrook head north on 95A up to Kimberley. Turn right onto Stirton Road, there is a dirt parking area on the left shortly after turning. The trail starts across from the lot and follows the power lines before heading off right towards the viewpoint.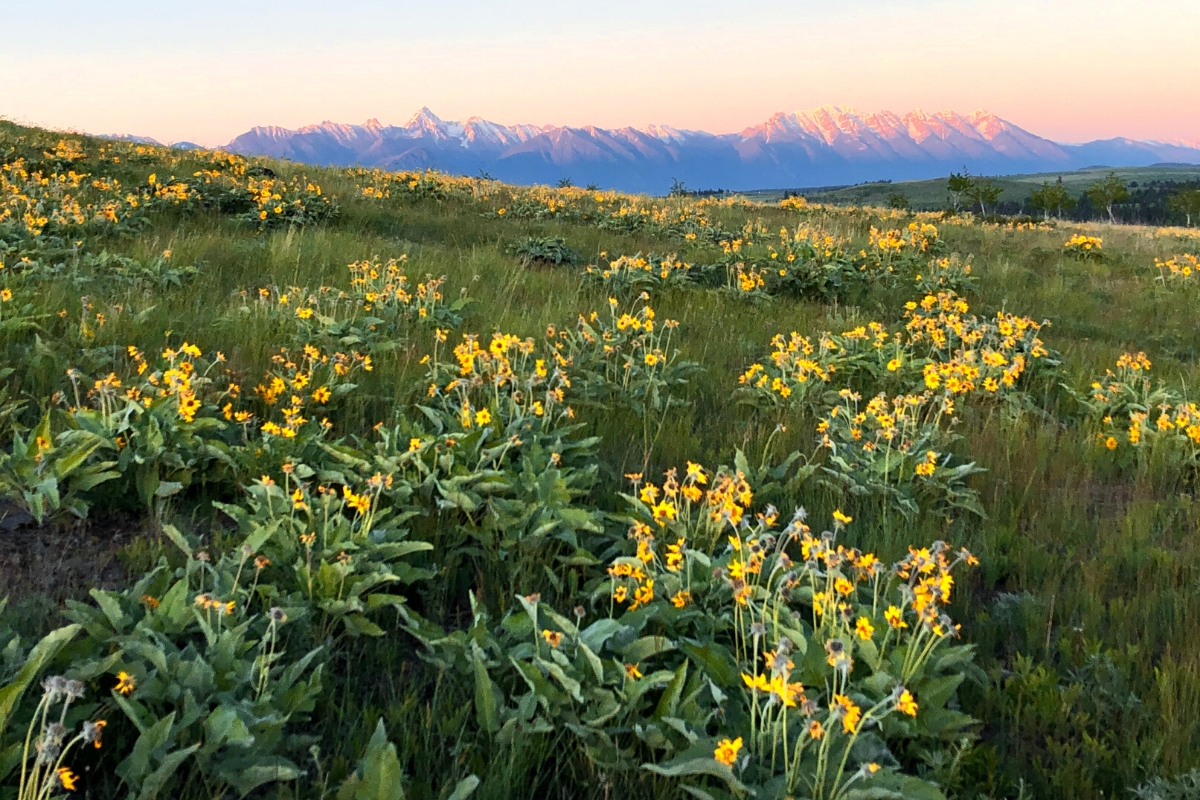 Bee Line - Beginner
At only 4.4kms, a hike along the Bee Line is an absolute gem tucked in the north side of Cranbrook that can easily be completed in a couple of hours. The majority of the trail is well marked, making it a relatively easy climb that is suitable for hikers of all abilities. Extensive views of the Rocky Mountains, the Purcells and the city of Cranbrook will unfold the farther into the hike you get and you'll be greeted with fragrant wildflowers on your journey up. It's a fairly simple but rewarding hike, so be sure not to miss out on these views!
How to get here:
From Cranbrook head north on highway 3 & 95 towards Fort Steele. Approximately 3.5km after the overpass to Kimberley, there is a rest stop on the right-hand side for parking. The trail heads down from here, turning left on Isadore Canyon trail (a gravel road) before taking a right over a make-shift log boardwalk that heads into Cranbrook Community Forest.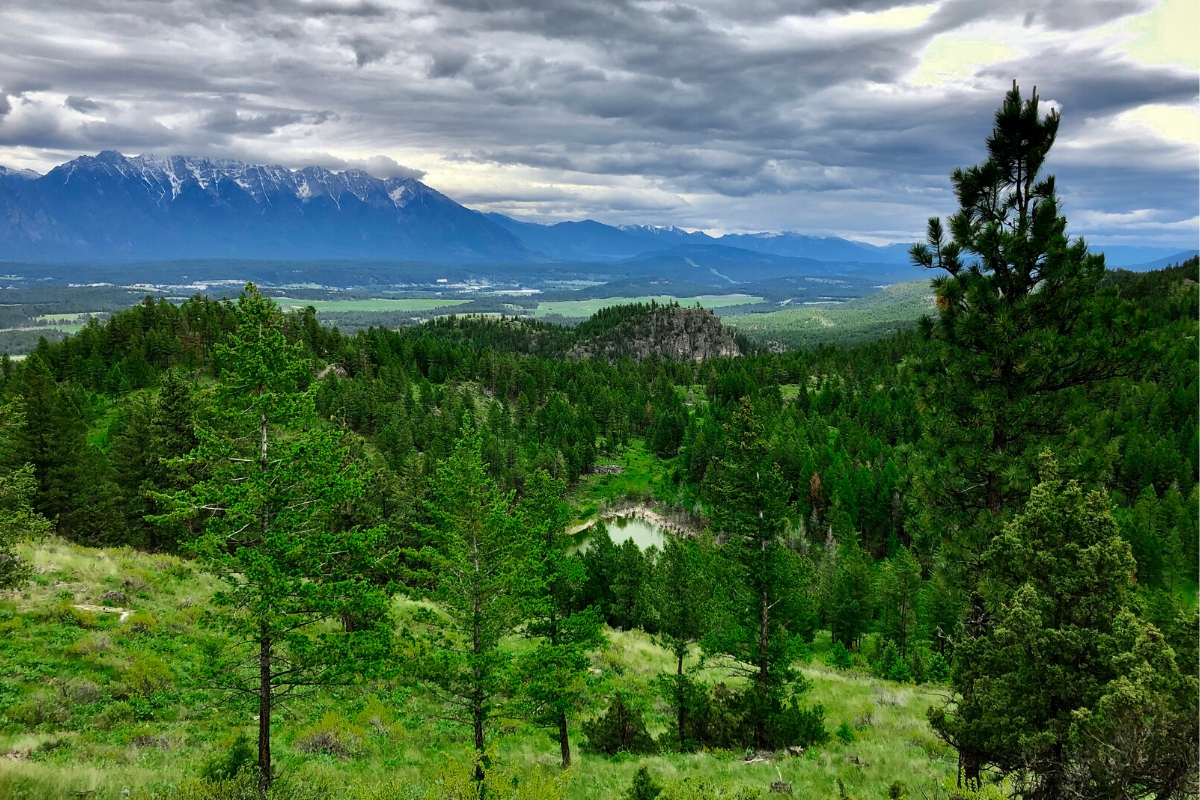 Along the Johnson - Beginner
Hoodoos, fairy chimneys, earth pyramids, tent rocks - these unique structures are the result of weathering of rock over many years, producing in their unique shape. Along the Johnson not only has spectacular hoodoos, but also provides great mountain views, a forest walk, and a stroll along a canyon. There are many biking trail offshoots along this hike, but several trail maps have been posted throughout the hike to make the main 7km route easy to follow and allow for hikers to make their journey longer or shorter if desired.
How to get here:
From Cranbrook head north on highway 3 & 95 towards Invermere. When you reach Invermere, turn left on Athalmer Road. Shortly after crossing the Columbia river turn right onto Panorama Road to Toby Creek Road. Parking is available Lillian Lake, the trail head is across the street; signage is available.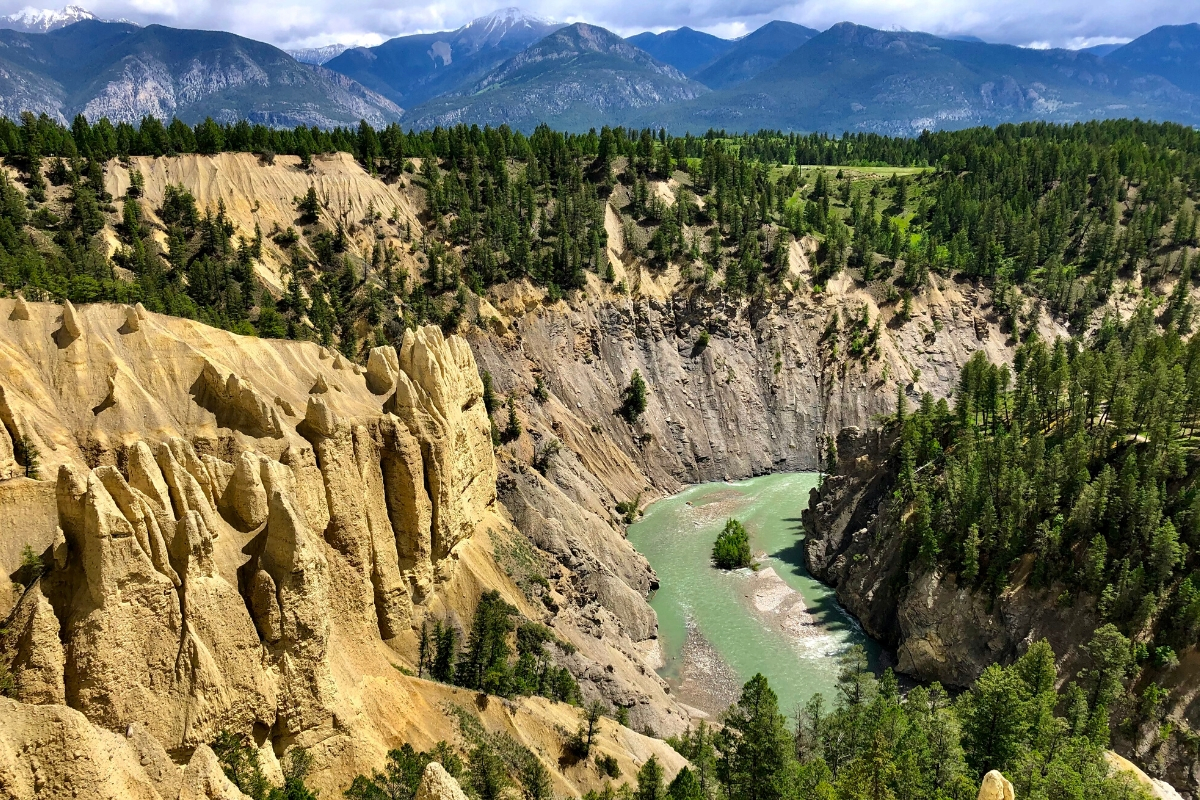 Silver Springs Overlook - Intermediate
A trek up to the Silver Springs Overlook is truly an impressive hike that provides views of three stunning blue lakes below and the rocky mountains to the north, all from cliffs several hundred feet up. You'll start the trail on an old gravel road (keep an eye out for wildlife!) before heading up steeper sections through open forests and meadows. Spring is a great time to head out for a few hours on this ~9km trail as the wildflowers are in full bloom. Paths run along the overlook so there are many options for continued exploration of these outstanding views.
Directions to trailhead
From Cranbrook head north on highway 3 & 95 towards Fernie. Continue on highway 3 for about 45minutes, turning right on Bate Ave in Elko. Take the second right onto Main Street and follow the curve left onto Alexander Ave/Cascade Street. Take a sharp left onto River Forest Service road, crossing the Elk river, a pull out is on your right immediately after the bridge.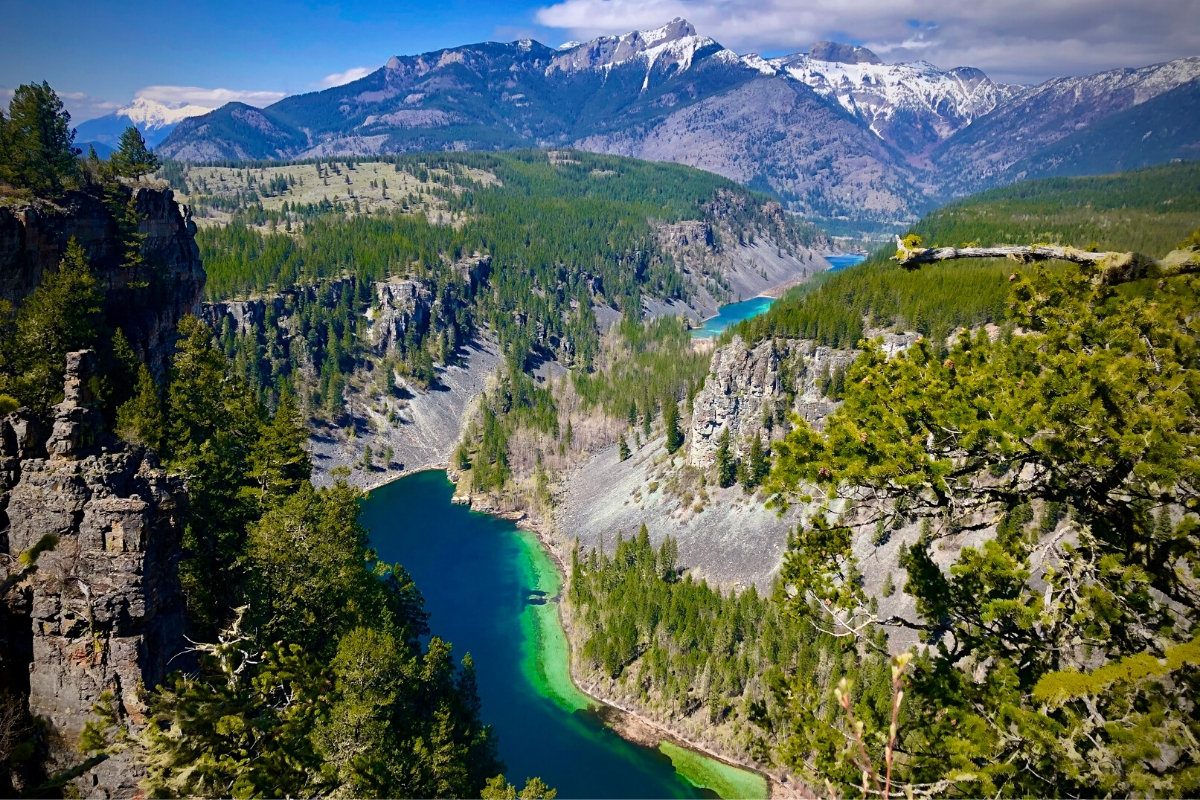 Castle Mountain Trail - Intermediate
Located an hour east of Cranbrook, the town of Fernie has several hikes of various difficulties. To get a relatively quick fix, try the demanding ~8km hike up Castle Mountain Trail. It will take just a few hours and reward hikers with gorgeous views over Fernie. There are numerous different hiking and biking trails here so follow signs for New Roots → Hyperventilation → Castle Rock. The last portion of the hike is a steep walk up "Castle Rock" that leads to a large bench area - a perfect spot for lunch while enjoying the spectacular rocky mountains.
How to get here:
From Cranbrook head north on highway 3 & 95 towards Fernie. Once in Fernie, turn right on 4th Street South just after the bridge crossing Elk River. Take a right on Pine Ave then a left on Coal Creek Road. The turns into a gravel road, follow it for ~2.0kms and then take a right to cross a bridge. Continue on this gravel road for 1.8kms, staying left at the fork. There is a pull out for parking on the right; the trail head that is on the left.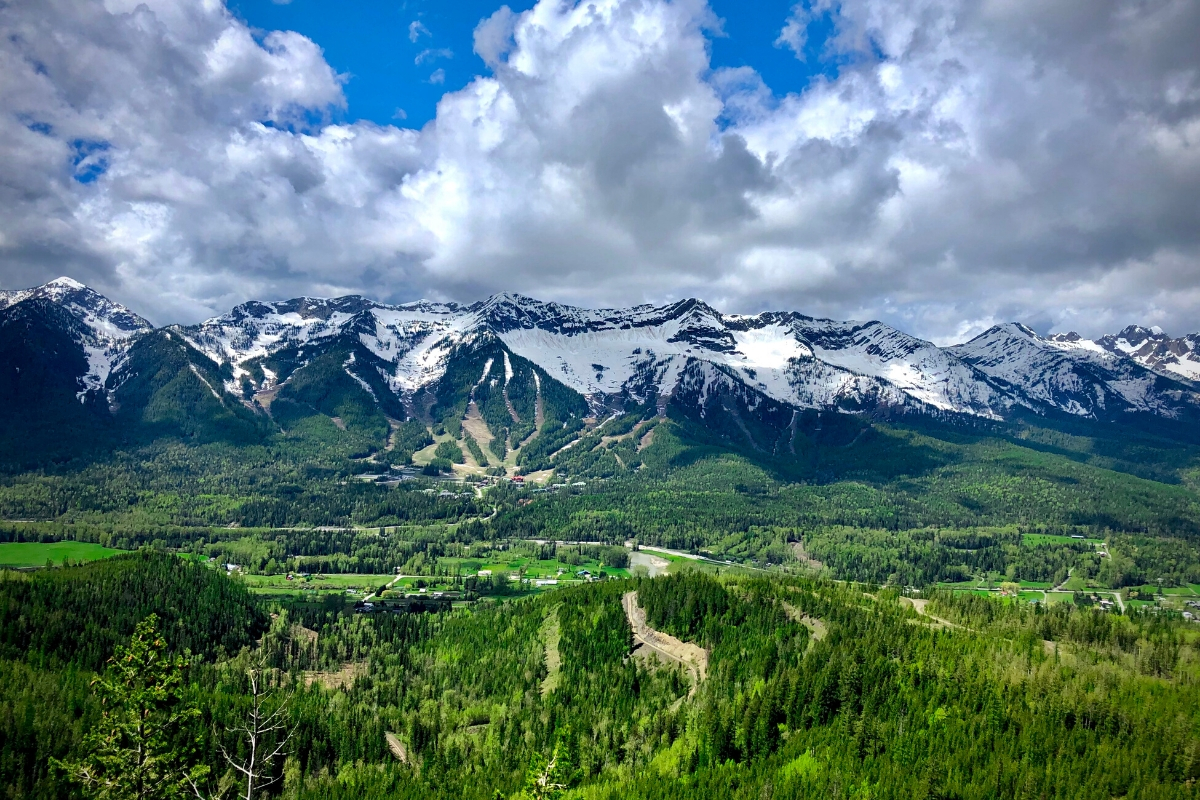 Swansea Mountain (Double Peak Loop) - Intermediate
Not for the faint at heart, the hike up Swansea Mountain is an intense 12km round-trip journey depending on what trails you follow. There are several bike paths in the area, but with signs along the pay to point you UP UP UP the trail is relatively easy to navigate. The hike is grueling at times (bring lots of water and prepare for a struggle) but both viewpoints are spectacular. This hike is popular for a reason so be sure to set aside a half-day to accomplish this climb!
How to get there
From Cranbrook head north on highway 3 & 95 towards Invermere. Continue on highway 93 for an hour and 15 minutes before turning right on Kootenay No 3 Road, then take a slight left along Windermere Loop Road. Turn right on Swansea Mountain Road where a parking lot, trail signage, and bathrooms are available.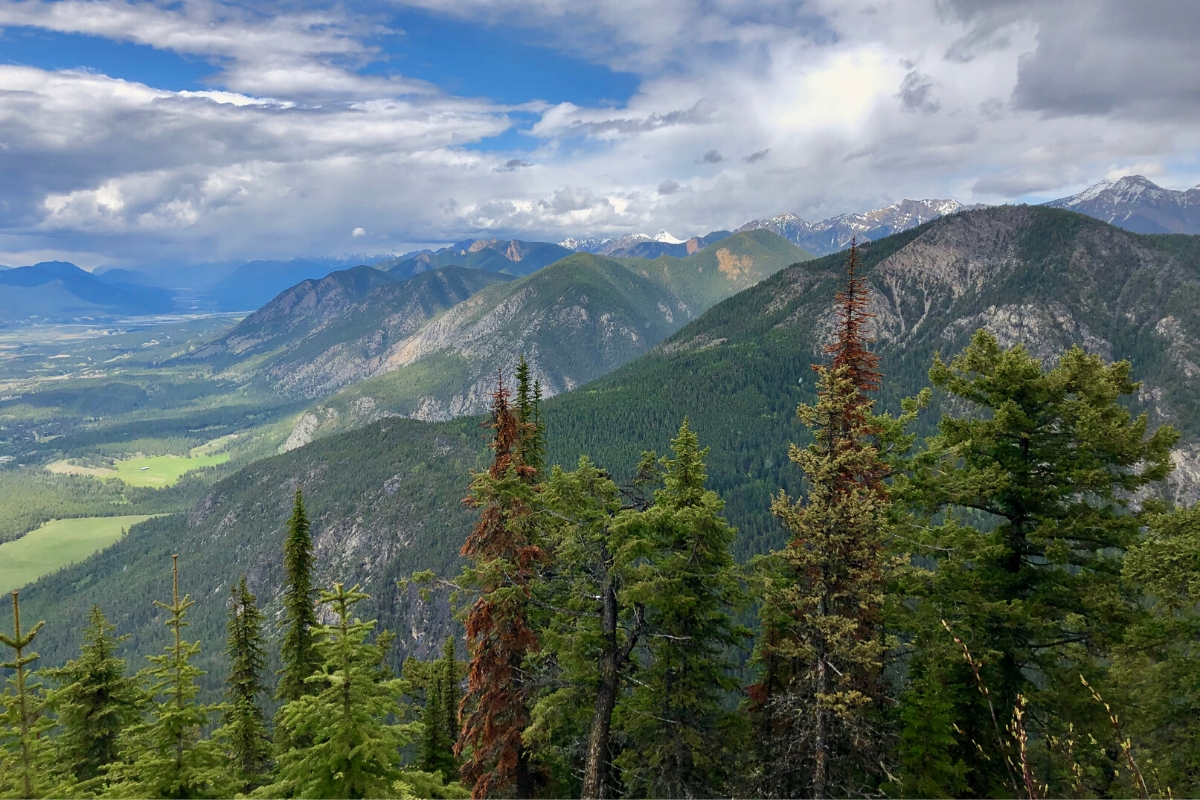 Balancing Rock to Trail End - Intermediate
The spectacular and varied balancing rock to trail end hike is a ~9.2km roundtrip hike that starts through gentle switchbacks up to find "balancing rock" - a massive boulder perched on bedrock. From there you will descend into a swampy jungle with lush ferns and massive skunk cabbage that will have you thinking of prehistoric times. You'll regain all the elevation you just lost and continue through more switchbacks before veering off trail to Holly falls, a magnificent waterfall tumbling down a mossy rock corner. Keep climbing and you'll be rewarded once more with gorgeous views over the Creston valley. A half day well spent, this hike really has it all!
How to get here
From Cranbrook head south on highway 3 and 95 towards Creston. Turn right on Highway 3 just past Yahk. Continue driving through the main strip of Creston and follow the right bend onto Northwest Blvd/ Highway 3A. Turn Left on Highway 3. Continue on the highway, then turn left into the Creston Wildlife Management Area. The parking lot for the trail head is immediately on your right after entering CWMA.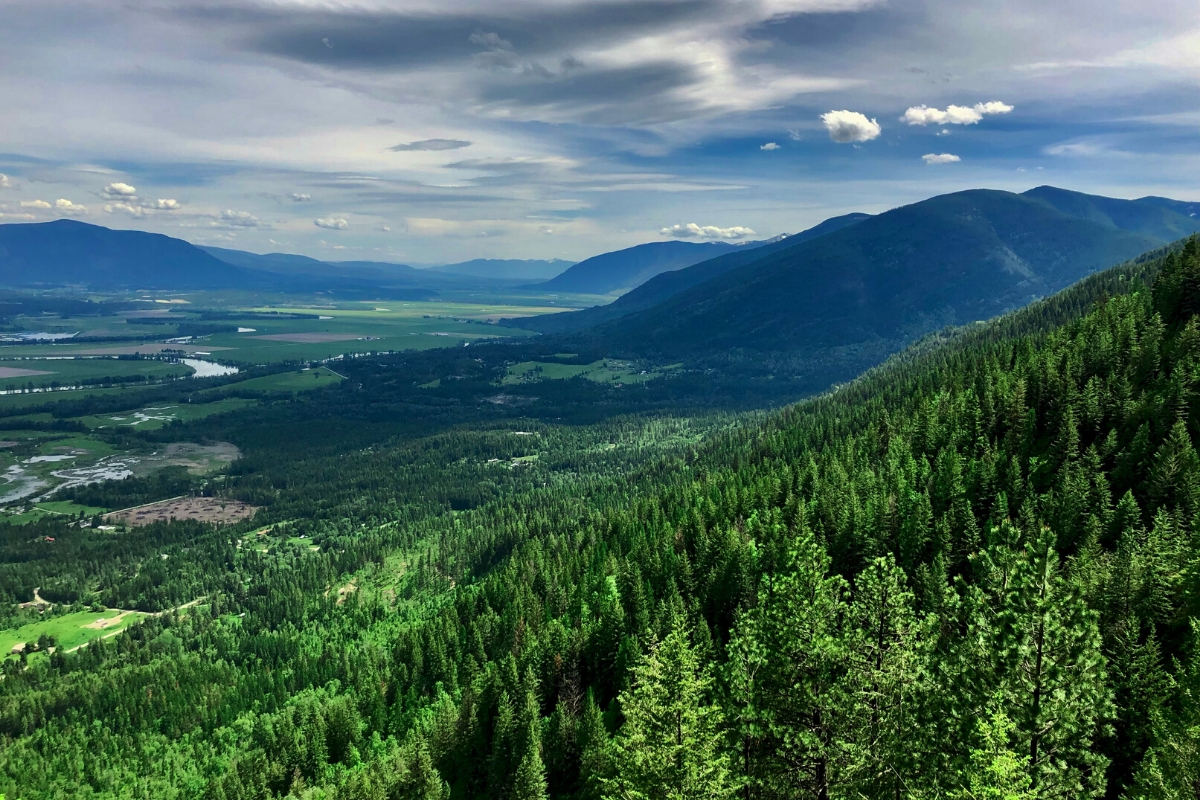 Helpful tip: Wildlife is abundant in our area. For safety, always carry bear spray, make noise and carry out everything you bring in (even biodegradable items) so as to not habituate animals to human food and garbage. Carrying a dry-sac bag is a great option for keeping these items separate and can provide space to pick up any garbage you might find along the way.
Happy hiking!
About the Authour
Lianne works as a wildlife interpreter leading multi-day trips where she shares her passion for nature and conservation. She moved to Cranbrook two years ago and immediately began exploring local hikes and enjoying all that the East Kootenays has to offer. Lianne also sits on the board of the Caribou Conservation Breeding Foundation (https://www.ccbf.ca/), a non-profit dedicated to recovering local caribou populations.