Christmas in the Country Farmers' Market
On Saturday November 6th, 2021 the 30th annual Christmas in the Country Farmers' Market returns to Jaffray for the most magical time of the year! The Market will be open from 09:00 am through 04:00 pm MDT at the Jaffray Community Hall, 7369 Jaffray Village Loop Rd. There is no better way to get into the holiday spirit than sipping hot cocoa and strolling amongst the friendly vendors of the Jaffray-Baynes lake Farmers' Market.
Artisans from throughout the East Kootenays and Western Alberta will be offering over 40 tables of unique gift ideas for the Christmas season.
What can you expect to find at the Christmas in the Country Farmers' Market? Handmade Crafts, Jewellery, Knitted Items, Candles, Toys, Pottery, Art Work, Wood Crafts, Adult and Children's Clothing, Baked Goods, Food Trucks, BC Fruit and Vegetables and one of a kind gifts that make it the quintessential shopping experience! Homemade lunch and refreshments will be available at the concession throughout the day.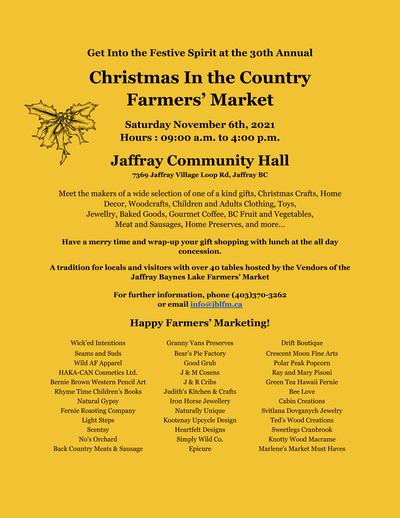 Sign Up to Receive Cranbrook Festivals & Events Information!